-----Precipitation - Liquid Form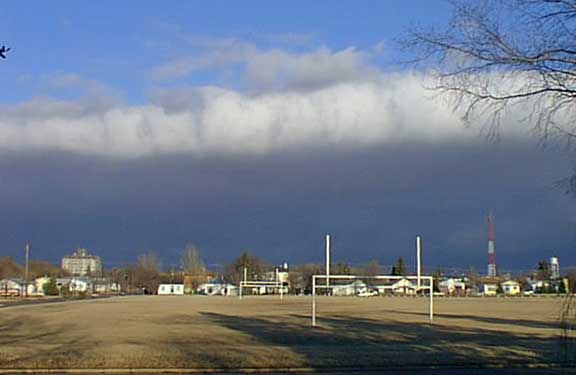 FTLComm - Tisdale - April 18, 2000
This is the view East as the mild first rain storm of the year headed away from us. Powered by strong Westerly winds this first April shower that actually brought rain was a welcomed relief from the chilly snow flurries of the past week. The actual rainfall was very small but the symbolic nature of the rain lifted everyone's spirits.

Over at Bruce Schpansky's yard during the rain their was a lot of hard work being carried out in the mud and rain as the last minute items were being put in place for today's giant sale. The sale is much larger then other auctions Bruce has held and uses the entire lot and area available to display equipment so that there is no parking whatever on the site and customers will be bused from the mall parking lot. John Bob Farm Equipment even cleared their equipment from the front of their yard to provide some parking. So things were looking a little glum around there with the rain pelting down. But as you can see above the sky cleared and the sun came out to end the day.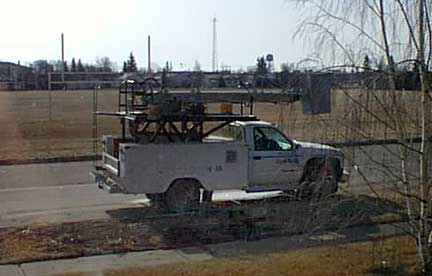 This is what it looked like this morning at 8:00 as SaskTel had responded to my plea for assistance late Monday afternoon. We have two telephone lines here at FTLComm, a voice line and the modem line. At about 4:45 I discovered that the voice line was out of order and got a telephone hooked up to the modem line and called information. We have so little telephone technical trouble I had forgotten that "611" get you "trouble". The operator told me to call "611" and then her voice disappeared in a crackle as that second line also went dead. I went over to the SaskTel shop and reported my problem and this morning as service man was here to restore the lines. It actually wasn't SaskTel's problem. We have a jack on the deck, on the West side of the house and it had gathered up some of the rain and shorted out the system. Disconnecting the jack solved the problem.
Click "Here" to go to Ensign Front page
Ensign, North Central Internet News, published daily by Faster Than Light Communications, FTLComm