---
A Winter City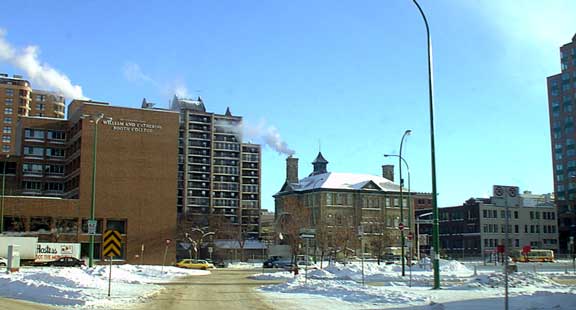 FTLComm - Winnipeg - December 28, 2000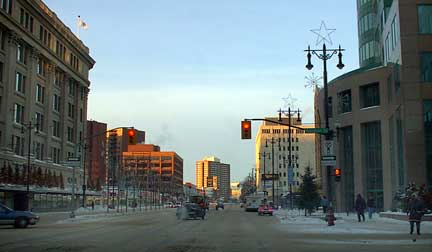 Winnipeg like the other cities of prairie western Canada spends half of each year trudging through the rigours of winter. Snow, ice, low temperatures and sometimes a wind that makes the thought of an eternity in hell sound inviting. These pictures were taken on Wednesday morning, a fine warm winter morning with the temperature around -23.

At the top of the page is an interesting scene showing what was once a public school at the very heart of the city now transformed into some other use but looking rather out of place amidst the modern buildings that seem
to populate most cities today.

Above right is a 9:00 view looking West down Portage Avenue with the Hudson Bay store just visible on the left of the image. The cavern of the created by the tall buildings casts this part of the city in perpetual darkness for all of the winter.

Below is the scene looking East down Elice at about 8:45 with the exhaust pointing the way toward a gentle southern breeze and a wind chill of only 1,400 kilopascals.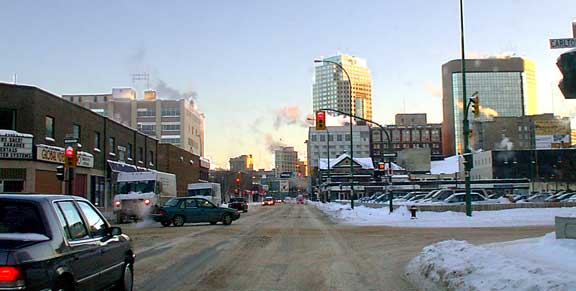 This picture shows an apartment building at the corner of the North/South route 90 and Ness as the building vents moist air upward about one third the way along and produces a crust of ice on the balcony above. This part of Winnipeg has a lot of apartment buildings as it is only minutes from the downtown and central business district of the city. To the West of this location the housing dates back to the rapid expansion the city experienced during the second world war and the homes are almost all from that era.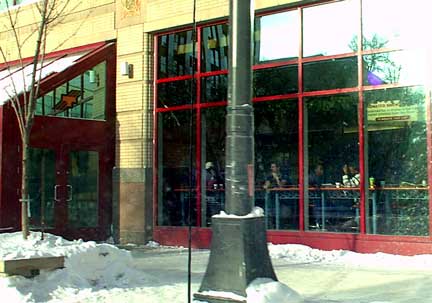 In downtown Winnipeg there are two large college campus complexes. Winnipeg collage and the downtown portion of the University of Manitoba. Along Portage Avenue on the North side between these two is a maze of shops housed in a building complex called "Portage Place" about the middle of this is this coffee shop and at 9:00 in the morning this window was a solid line of coffee drinkers peering out into the street from a bar along the window. This picture was taken at 11:30 when only a few people were still to be seen getting a morning java fix.

Elice Avenue stretches parallel to Portage several blocks to the North of it and
is one of the older portions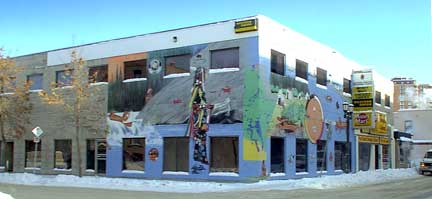 of the city. Now it is the
home of many of Winnipeg's newest residents. Two Philippino churches are along that route and countless eating establishments that seem to come from all around the world. Pakistani, Vietnamese, and middle eastern names identify the businesses and decorations suited to the cultures can be seen along the way.

The rather run down part of the city has tried to spruce
itself up with many murals,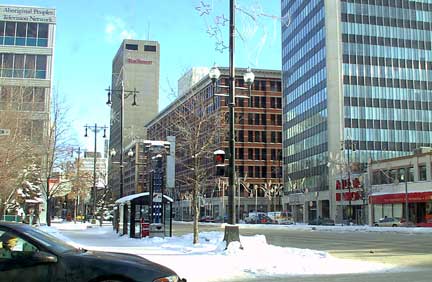 this one a First Nations
scene is one of the larger ones in the area.

In this picture we look East up the Portage Avenue canyon toward the Radisson hotel with the unlit steel Christmas decorations set on the median in the middle of one of Canada's busiest and definitely windiest streets.

The picture below is looking South toward Portage Avenue and shows one of the many above street walk ways that let pedestrians move about the downtown area of the city without going outside. Further to the East on this street all of the businesses and a complex series of shops are found in
what is a huge mall under the whole section of the city.