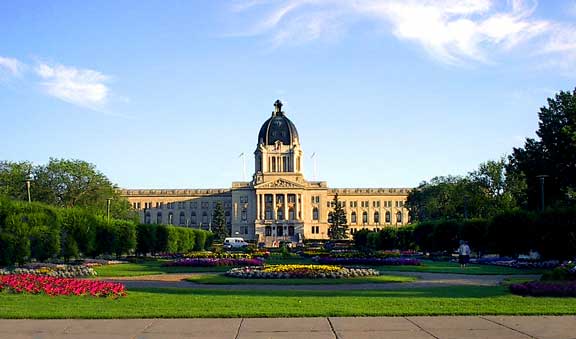 Gooseville
FTLComm - Regina - Wednesday, August 6, 2003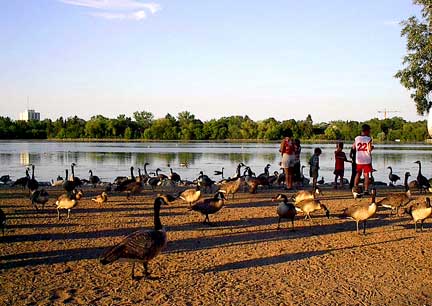 Regina's claim to fame in 2003 is both good news and bad. It leads the country in the highest level of property crime with break-ins, robbery, and car theft everyday occurrences On the good side it is home of the 2003 Grey Cup and with the Riders in first place in the West in the Canadian Football League things are looking good.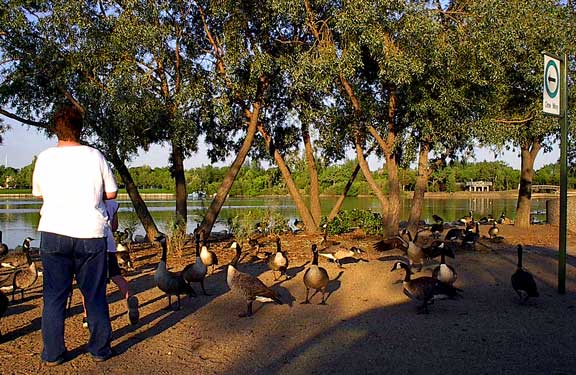 In the late fifties Fred Bard working at the Natural History Museum (now the Royal Museum) noticed a group of geese who had decided not to migrate one winter and took up residence in the ice free ice of the Wascana by the power plant. He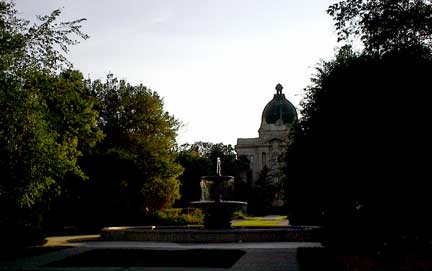 organised a group of volunteers who provided feed for these feathered fools and the little band of rebel geese began to multiply As a kid growing up in Saskatchewan the only geese I had ever seen were those who dropped in each spring and fall on their migration. Local indigenous geese were unknown in South and Central Saskatchewan. The Regina gaggle grew until there were to many and colonies were moved to locations around the province. Today, in many parts of Saskatchewan there are more geese than ducks.

But, in Regina there are still a large number of the descendants of the original rebels, so many that the shore along Wascana that was a neat grassed area is now sand. Fortunately these social feathered creatures are peaceful and quite used to humans. These pictures of them were taken on the evening of July 27th.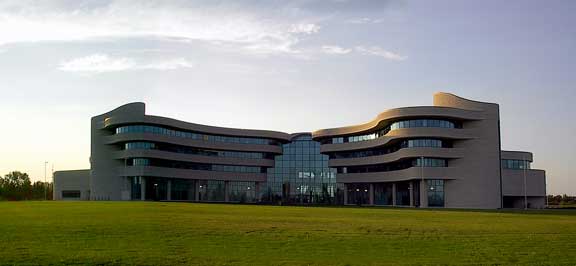 Regina is like its Northern neighbour (Saskatoon) a developing and dynamic city the population has continued to grow each year and commerce in the city continues to flourish despite the recent drought.

The University of Regina is a rapidly expanding institution with the recently officially opened Aboriginal College of Canada housed in the truly beautiful structure on the East side of the campus.

There is a new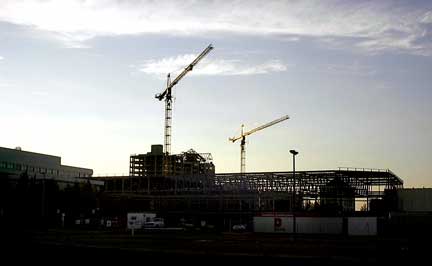 Engineering building and construction proceeds on a building linking the gym and the Education building.

The University of Regina has distinguished itself with being one of Canada's leading journalist schools and is gaining a reputation for its justice programme. Each year the University turns out teachers, scientists and linguists.
Obviously there is much more to Regina than the legislative building (top of page), Wascana Park and the University of Regina. Another time we can explore more of this city and its unique modern architecture.
---
Return to Ensign - Return to Saskatchewan News
This page is a story posted on Ensign and/or Saskatchewan News, both of which are daily web sites offering a variety of material from scenic images, political commentary, information and news. These publications are the work of Faster Than Light Communications . If you would like to comment on this story or you wish to contact the editor of these sites please send us email.
Editor : Timothy W. Shire
Faster Than Light Communication
Box 1776, Tisdale, Saskatchewan, Canada, S0E 1T0
306 873 2004