Winter City
FTLComm - Regina - Thursday, January 6, 2005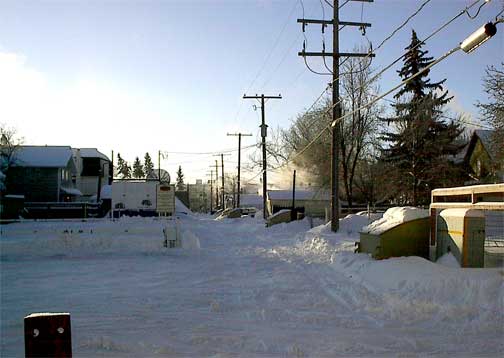 Winter is something that Canadians pretty much pay close attention to for there is no such thing as normal. The variations each year are extreme enough to teach everyone to take it as it comes.

The way it came to Regina and all of the southern prairies from Calgary to Winnipeg was hunker down and be careful weather. Two snow storms almost merged into each other as they dropped snow on Regina shutting down work and traffic on December 30 and New Year's Eve. These first three images were taken on New Years Day with a clear -34º sky and the rest of the images were taken Sunday which also had a fresh -34º bite to it.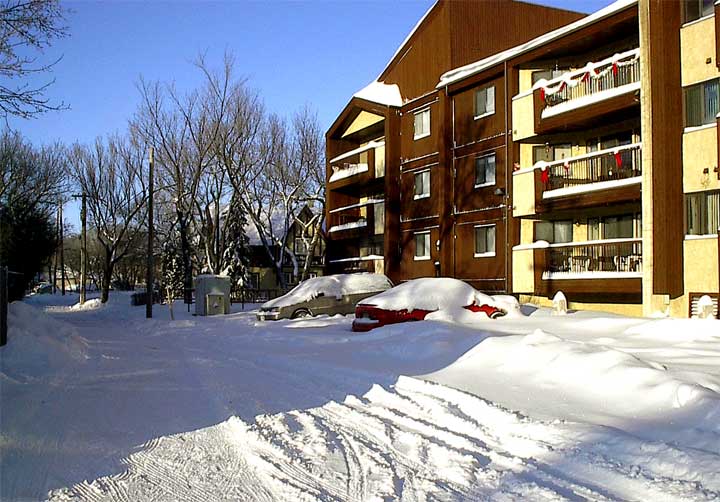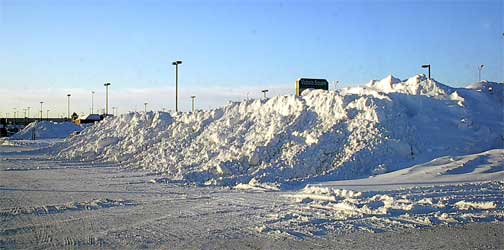 Contractors and the city were going flat out trying to get the city back into an operational mode and reported that it would cost the city $1,000,000 to clear the streets while over in Winnipeg the price was more than four times that as some neighbourhoods were closed up for more than four days straight and most New Year's Eve parties were at home.

This is the parking lot at the Victoria Square Mall on East Victoria Avenue.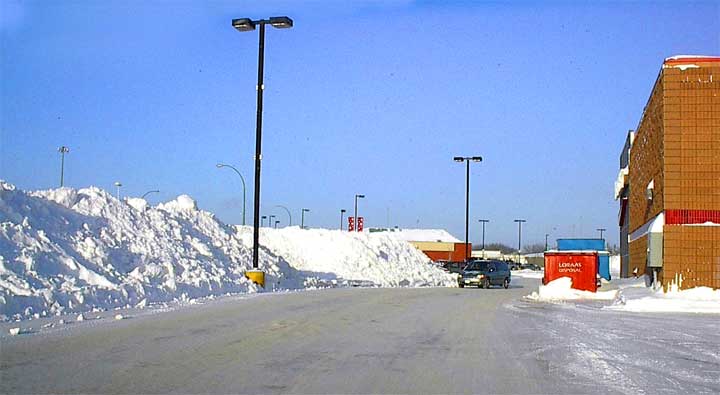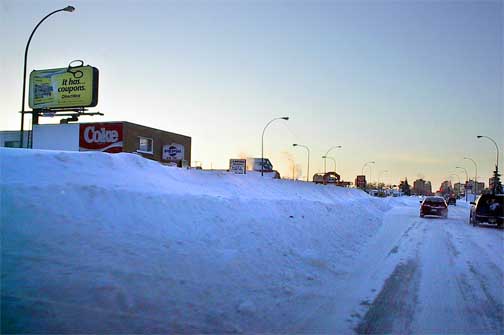 Most of the city's streets looked like these traffic shots of Victoria Avenue, Westbound with snow piled high on the median. West of Albert Victoria was a single lane each direction and parking on the sidewalk.

Usually storms of this type with large amounts of snow are more likely to hit Regina in February or March while Winnipeg can get snow falls of this type in all months of the year except for May to September when floods are normal.

The cold snap deepened on Monday and Tuesday when the wind chill was a solid -52ºC.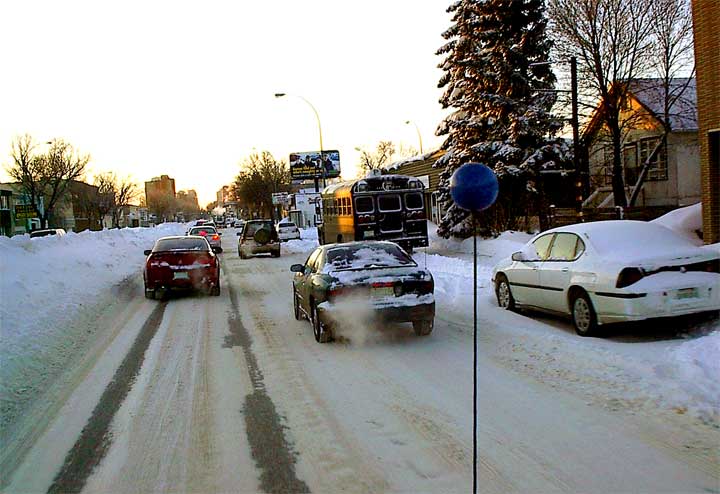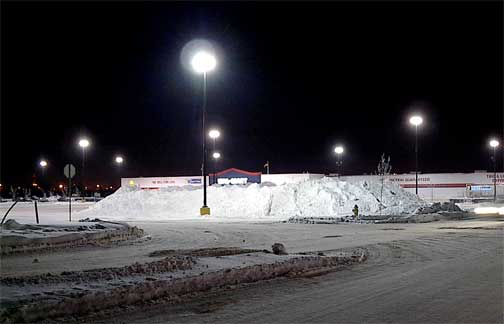 This image taken in Regina's North end Sunday night shows the black sky of an arctic night. Water is frozen out of the thin dense atmosphere and there is no hint of blue. On Tuesday night the temperature was even further down and Regina was shrouded in "habitation fog" often seen in very northern communities. Environment Canada likes to call this form of fog "ice fog" but it is caused by water released into the cold atmosphere by vehicles and household and building heating systems. In the Porter Creek area of Whitehorse Yukon because of the geography these gases can build up to the point of being dangerously toxic as a form of arctic smog can fill the dense cold air.

Today the temperature marched back up into the teens so that now at 8:45 in Tisdale it is -12ºC. Remember nothing is normal.
---
Return to Ensign - Return to Saskatchewan News
This page is a story posted on Ensign and/or Saskatchewan News, both of which are daily web sites offering a variety of material from scenic images, political commentary, information and news. These publications are the work of Faster Than Light Communications . If you would like to comment on this story or you wish to contact the editor of these sites please send us e-mail.
Editor : Timothy W. Shire
Faster Than Light Communication
Box 1776, Tisdale, Saskatchewan, Canada, S0E 1T0
306 873 2004