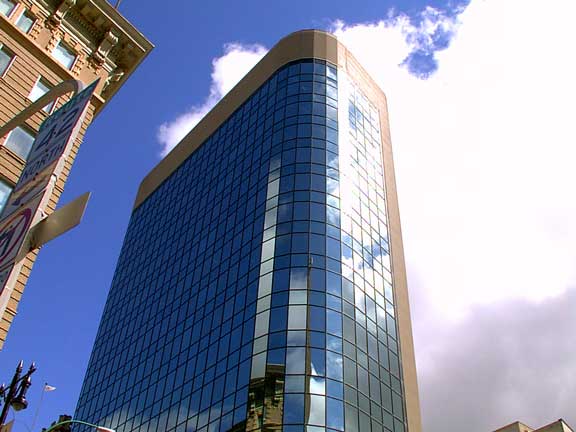 The Once and Changing Prairie City
FTLComm - Winnipeg - Tuesday, June 25, 2002

A half million people make Winnipeg their home, most have spent all of their lives here and though they may have traveled this is and always will be their home.

When I visited and photographed Saskatchewan villages and towns one always gets the sense of what they must once have been like in their hay day for alas most rural communities are in their declining years. Winnipeg gives you that same sense of the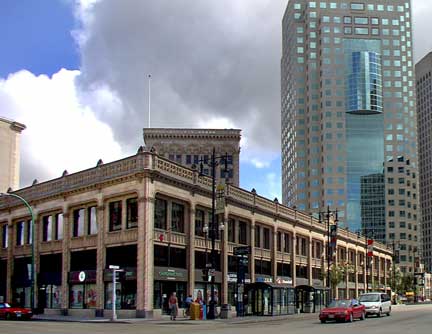 remarkable recent-ness of its impressive past as much of the city is now in serious decline. Where the two kinds of communities diverge is that most rural towns and villages will never ever recover but will simple building by building fade away. Winnipeg on the other hand is a growing city which has its past, its present and perhaps even its future there for all to see.

This morning we drove from the West side of the city down Portage Avenue amidst various rebuilding and reconstruction projects. This is the street in the city, its Bloor Street, its Madison Avenue its core. Though there were lots of people on the streets many of its store fronts stand empty as they would have done in the great depression seventy years ago. Among the aging gracefully and historical buildings are the soaring modern structures of a booming economic financial world.

We turned North onto Main and headed up past buildings that once were the source of financial wealth and development for all of Western Canada. The area rapidly shows decline, empty lots were grant buildings once stood, head offices of no longer existing companies and empty store fronts.

As we moved North on Main I thought of the magnificent Winnipeg strike that began along these streets in the depression and how this part of the city produced one of the founders of the CCF and of course Canada's longest sitting member of parliament Stanley Knowles. It is North Winnipeg that produced Burton Cummings who still makes his home in the city only in a much better neighbourhood.

Winnipeg has produced some incredible people who have made their mark in the world, Larry Zolf, David Steinberg, and a host of remarkable other entertainers who made their mark here in Canada but many around the world as well. CBC's long time philosophical radio personality Danny Finkelmann and his amazing television producer brother Ken came from this city and with the talent and the sense of purpose Winnipeg personalities have always demonstrated one knows that this is a place that molds character.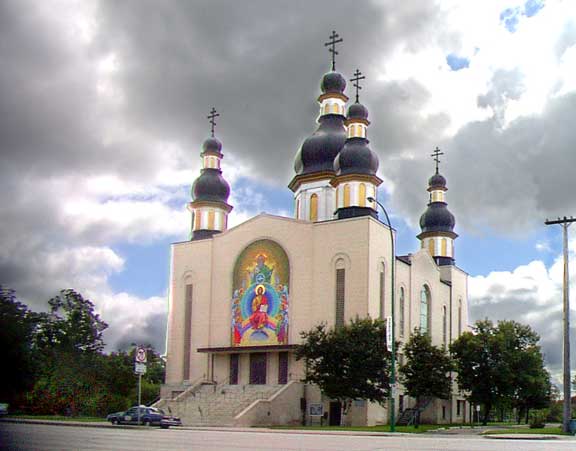 The plan was to move up Main street then at some point turn and head across the flat city West working our way back to our point of origin. We came to this great Greek Orthodox or Ukrainian Catholic church with its cool and peaceful park and I turned left a block or so North. We drove through a neighbourhood of old large brick apartment buildings and small but definitely run down houses. The neighbourhood was teaming with people and it was ten in the morning. These folks obviously do not have jobs and things looked very tough.

We did not click any pictures of this neighbourhood we were to busy trying to understand what it must be like to live in such surroundings.

The block South of the huge church there is a converted convenience store that now is a police precinct. A few turns later I had worked my way around and we parked in front of the a lady taking a break and chatting with a policeman about her work on the mural.

I got my picture of the mural in progress and began talking with the policeman as the painter was wrapping up her work for the day as this kind of work is best done in the cool of the morning with the bright sunlight well behind the structure.

He said that this precinct had been there for twenty-five years. I asked him about the rough section of the city which we had just driven through and he said it wasn't always like that. He said that the area is slowly growing edging its way West, spreading outward from Main. Only two years ago he and his family made their home only two blocks away but things have changed. Elderly people live in their homes and as they die or move out the houses are bought and rented leaving the others unable to sell their homes because of the rapidly declining value of the property.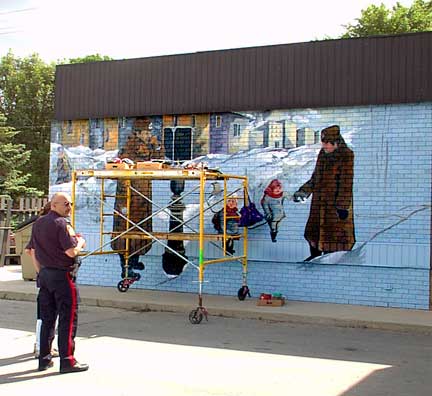 A few summers ago Winnipeg suffered a rash of arsons where abandoned houses and buildings were being systematically torched. I asked the policeman about this curious phenomena and he said that fortunately that trend had largely come to an end, they still had some dumpster fires but their work now seemed to focused on the spread of gangs in this part of the city and as we had driven around the signs on the buildings clearly marked gang territory.

We talked about car thefts and he thought their problem was pretty serious but I pointed out to him that he was living in paradise when the crime statistics were compared with Regina and Saskatoon.

As we drove back North the ghetto behind us the neighbourhoods quickly showed improvement and we swung West and drove through a portion of the city that block by block you could see the architectural differences that showed the development of Winnipeg from East to West as we passed through neighbourhoods begun in the twenties and thirties then past wartime home, then into fifties areas, sixties and then seventies.

Parks and boulevards make Winnipeg's North end a beautify and pleasant place to live and raise a family but as we turned onto Sergeant I couldn't help saying how luck we were to have been born in rural communities and not be trapped in an urban environment.

Children growing up in that ghetto we had seen, with unemployed, unemployable parents, children of poverty and children without hope. The key to their lives is education and yet how hopeless that must seem under the circumstances in which they live.

Another day we will take a closer look at this part of city life as we try to find some answer to all the developing questions. In the mean time if you have something you would like to see let us know.