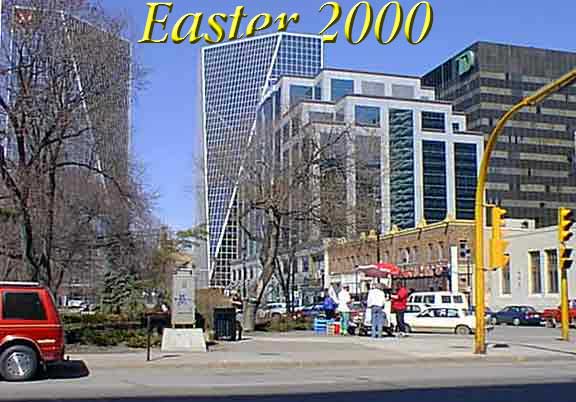 FTLComm - Regina - April 21, 2000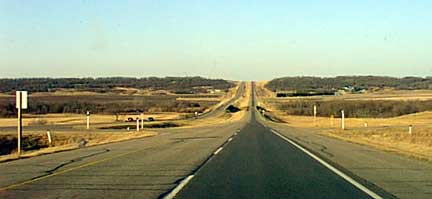 Thursday morning we set off on our journey to Winnipeg and better weather could not be possible. The picture of the great pants on the hot dog vendor in Regina's Victoria park really says it all, What a glorious day!

Here are some observation from our trip. From Tisdale to Naicam and just a bit South of Naicam, farmers were beginning to get underway. We saw about four field operations where anhydrous ammonia was being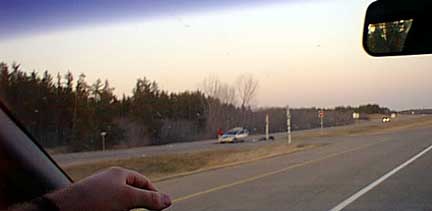 applied and a few fields were
farmers were doing some basic harrowing and pre-planting work including harrowing and rock picking.

Once we got to Watson the fields were empty, this was also the case across Eastern Saskatchewan. Then between Portage and Winnipeg we saw tractors and implements heading back and forth as this new year begins.

Migratory birds were the big story between Tisdale and Naicam where we saw a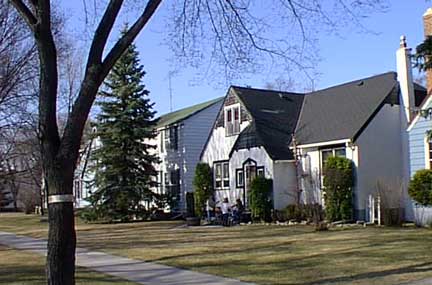 flock of Whistlers the West
of 35 were two lots of sandhill cranes, a nice flock of "lessor" Canada Geese, a massive thousand bird plus congregation of Brandt geese and snow geese. (Brandt and snow geese are the same species only in different phase and colouration) and significant numbers of red head ducks.

The picture of a car stopped on the highway somewhere East of Brandon is a puzzle with the car partly unloaded and passengers playing catch on the highway.

The picture on the right was taken this morning in Winnipeg and illustrates that like yesterday things are outstanding. While we are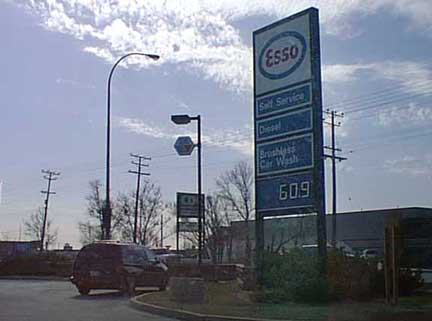 reporting clear skies over
Winnipeg at 9:00 (Saskatchewan time) the picture on the right taken at 10:00 shows some high level cirrus cloud which would suggest that the morning's Southerly winds might pick up a bit.

Check out the gas price this morning in Winnipeg. With 68.9 in Tisdale, 69.9 in Watson, 67.9 in Southey I thought things were okay. We refuelled the van at Moosomin for 68.9 but began to notice even lower prices in Brandon and most stations in Winnipeg are 62.9.

I trust that you will find time to pry yourself away from the nonstop, playing on forever Stanley cup playoffs to spend some time with your family and get out side for a while this great Easter weekend.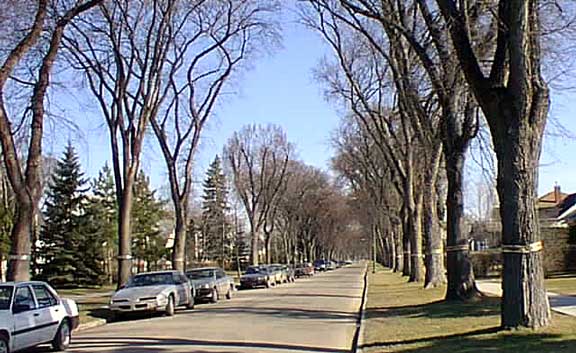 Click "Here" to go to Ensign Front page
Ensign, North Central Internet News, published daily by Faster Than Light Communications, FTLComm