Gloria Retires From Royal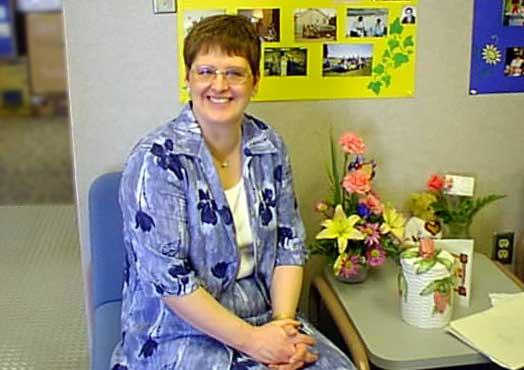 FTLComm - Tisdale - April 29, 2000
Friday was Gloria Spedding's last day as one of the people Royal Bank customers have come to rely upon for so many years. The Tisdale branch of the Royal Bank won a prestigious award for customer service in January last year and there is no doubt that they competent staff of the branch followed the example of Gloria Spedding who's efficient and thorough solution finding system is responsible for the almost zero wait time when you go into Tisdale's Royal bank.

Gloria mastered the complexities of inter bank transfers and the intricate steps to accomplish various transactions as a matter of course and it was clear from the turn out Friday afternoon that this opinion was shared by a large number of people.

The Royal Bank had cake and coffee for everyone Friday afternoon and a chance to talk to Gloria and wish her well. Gloria is by no means fading off into the sunset but is leaving the bank to devote herself to the family farming operation. Though the staff at the Royal are really capable I am certain they will miss the day to day abilities of Gloria Spedding even more than her customers.