Sharing sunrise this morning
FTLComm - Tisdale - Tuesday, August 27, 2002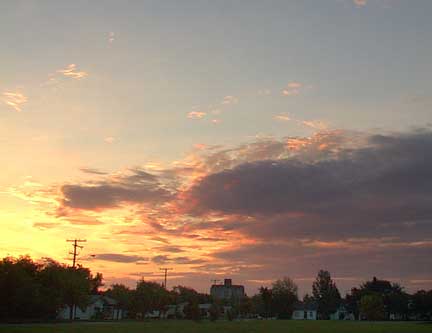 Tisdale is a surprisingly tolerant community for as I stood on the sidewalk in front of our house this morning waiting for the sun to creep above the horizon, people heading off early to work merely waved and smiled, "nothing unusual about that Shire guy outside at five to six in the morning with his camera."

This set of pictures are the way the camera saw them and recorded them, the rich hues of the morning light did not need any tweeking in PhotoShop to bring them closer to what I saw with my eyes.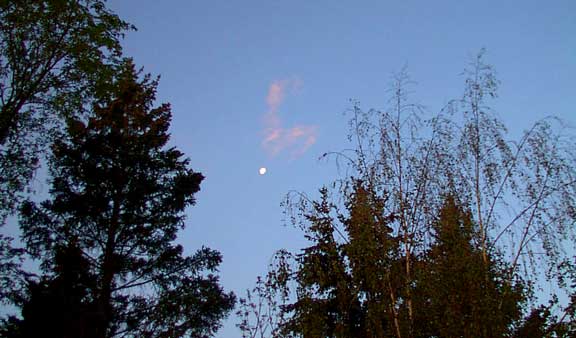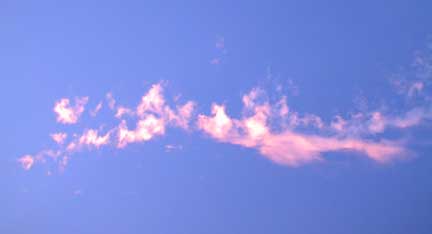 At precisely 0600 the picture at the top of the page was snapped and each successive one is shown in sequence, a few minutes later with the image at the bottom of the page, two images combined to give you the wide vista and feel of this morning.

No dew on the grass, 14º C and not a breath of wind. At sea this would be a "warning" sky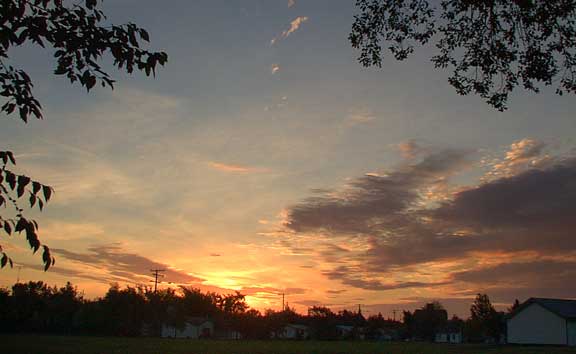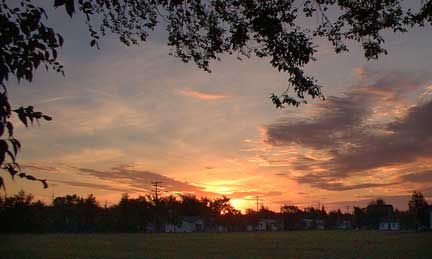 A professional woman, her children now grown and left home it was time six weeks ago to do what she had always dreamed of doing. Jumping from an airplane and parachuting to the ground.

"You went dual," I asked.

"No, they don't do that at Wakaw."

What an exciting thing to do and despite her crutches she beamed with excitement as she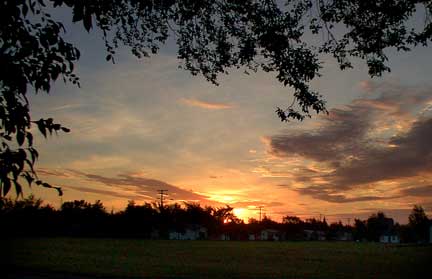 told me her story.

"Would you do it again?" I asked.

"No." She shook her head, "my depth perception just is no good and I did not know when to flair."

I congradulater her on her effort and expressed my sincere appreciation for being able to talk to her, a sprained ankle and a broken one, perhaps is a small price to pay for doing something you always wanted to do.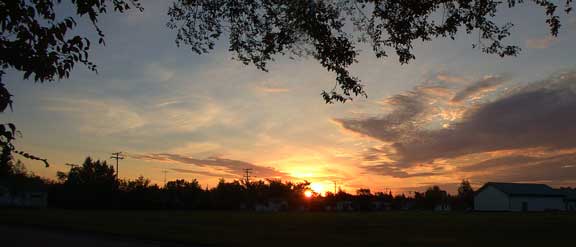 Now here is why she was injured. Almost every parachute programme has the novice jump in a dual harness set up because going "solo" on one's first flight just doesn't make sense. All flying objects, be they aircraft, birds or parachutists, must work out the physics of forward motion, vertical descent and angle of attack. In every case the flight must conclude precisely at the moment when the vertical descent is about to end with contact with the ground. The flying object must increase the angle of attack so as to induce a climb, this bleeds off the energy, vertical and forward, and if done just at the right moment, the pilot, bird or parachutist, touches the ground with almost no more impact then stepping off a step.

For the novice, that first flight in a parachute, there is no time to make the calculation, catch the subtle peripherial visual clues that signal the exact moment when to bleed off the speed in a "flair." Our brave friend hit the ground hard because any other result would have been complete luck. By the way, flairing to early turns a flying object into a non-flying object, a "stall" which results in a very abrupt arrival. Flair to early or to late and the results are the same, hard landing.

If you want to see this process done perfectly watch a crow or raven take a power pole landing. The bird descends to the pole top aiming just below (about its height) from the top then pulls up sharply to bleed off speed and touches down with neither forward or vertical movement.
Retrun to Ensign - Return to Saskatchewan News
This page is a story posted on Ensign and/or Saskatchewan News, both of which are daily web sites offering a variety of material from scenic images, political commentary, information and news. These publications are the work of Faster Than Light Communications . If you would like to comment on this story or you wish to contact the editor of these sites please send us email.
Editor : Timothy W. Shire
Faster Than Light Communication
Box 1776, Tisdale, Saskatchewan, Canada, S0E 1T0
306 873 2004