So, Who's In Charge Here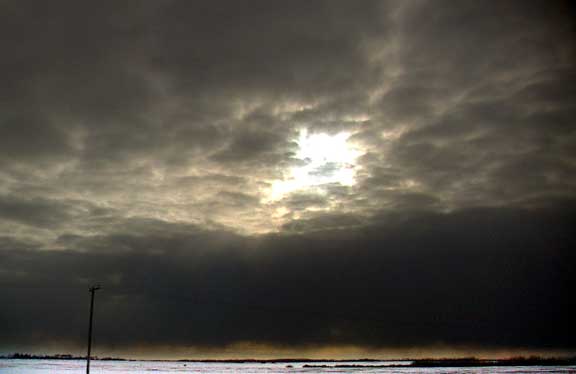 FTLComm - Birch Hills - March 31, 2001
When I first set my eyes on the Rocky Mountains West of Calgary I was shaken by their size and in contrast my own insignificance. The feeling was greatly magnified as I would fly over endless hours of mountains during the 80s when we lived in the Yukon. The self assertion and amazing self importance of humans, individually and collectively is always demonstrably brought into perspective when faced with the immensity of our world.

The magnificience of the sky and its overwhelming authority over us is the most obvious reality check we can experience and whenever I see these shafts of light streaming through parts in the clouds as was the case late yesterday afternoon I have always referred to these scenes and these cloud formations as "Oh God" clouds. The image above was taken just West of Kinistino and shows the virga of snow and storms lashing the West.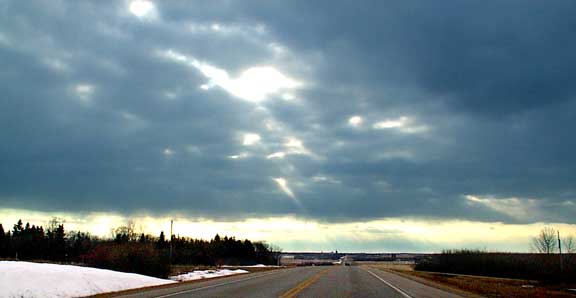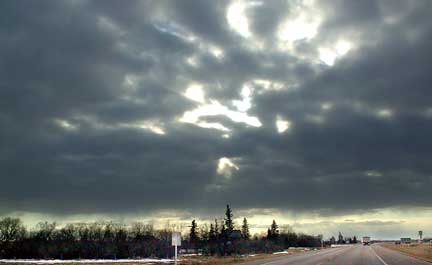 When I got out of the car in Prince Albert it was clear that the weather had been changed considerably and these pictures at Brch Hills show the transistion from a relatively pleasant day in Tisdale to a relatively nasty day toward Prince Alberta.

Today the system has passed and though we could characterise yesterday's system as ending March as a Lion, for Tisdale, Melfort and Nipawin that would not be accurate as the month ends like it was from the beginning, cool and windy.