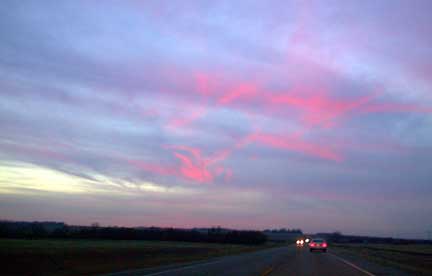 Flames But No Fire

FTLComm - Birch Hills
Saturday, October 27, 2001

The late Friday afternoon sky was its regular fall grey as I set out from Tisdale to Prince Albert. Tuned to CBC and the bubbly Colin Gruer I had worked my way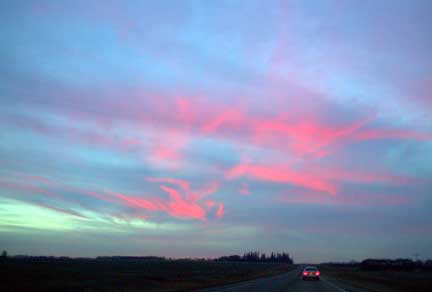 through some steady traffic and two news casts.

I was over the Weldon hill and in the flats half way to the Birch Hill when the first flicker of red caught the dangling whisps of cumulus.

I clicked these first two with the camera up to the windshield and it was clear that there was about to be a show.. The next image would be from the top of the hill and this time it was window down and camera out in the wind to capture the pictures below.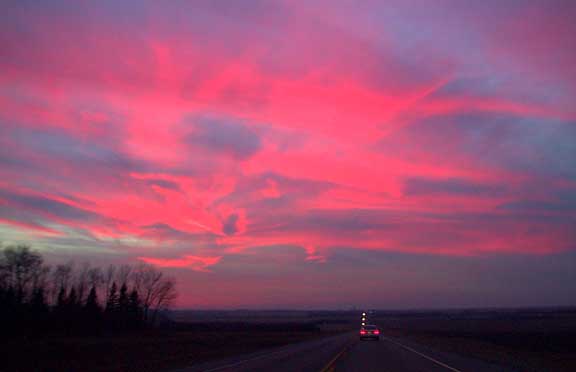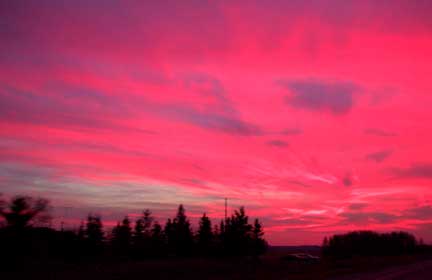 From the top of the hill down the sky simply blossomed flushed and glowed across the West even turning the landscape beneath it red.

At this point the wind was not a factor on the surface but the red sky at night is suppose to signal mariners of a steady wind to come and only a couple hours later it was howling at twenty knots from the South East.

The last picture is right at Birch Hills itself and in two minutes after this picture the red light had fadded away.