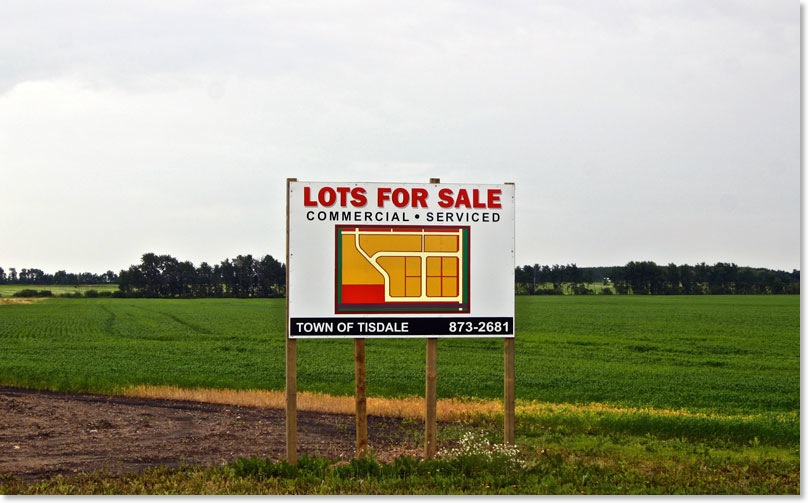 Tisdale in a world of change
Tisdale - Tuesday August 13, 2013
by:Timothy W. Shire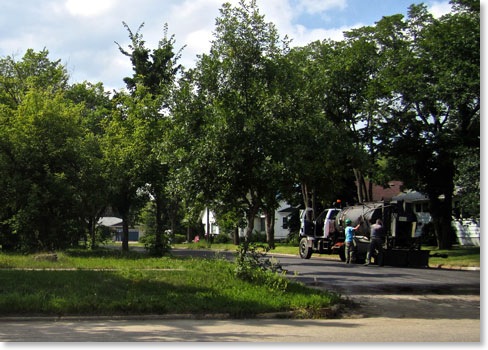 As summer moves along, so does the pace of change in this small town. The town has been pretty busy developing land in and around the community to accommodate business and residential areas. The area on the West side of the airport was developed last summer with the addition of a street with water and sewer lines installed. This summer, the natural gas lines are about to be installed and likely electrification will follow shortly. Along the few vacant areas immediately east of Heritage Road, signs for lots for sale are abundant and a new house is well underway in the area.


There is a paving crew working in town right now, doing up the area around the hospital and the new long term care addition. Several other streets are being paved and to our surprise, the town crew itself has been pretty busy patching cracks in streets all over the town. Of course, its always a few steps forward with the town and one or two back. This week they tore up brand new pavement to install services to a new duplex west of the
Maple Ridge
condominium.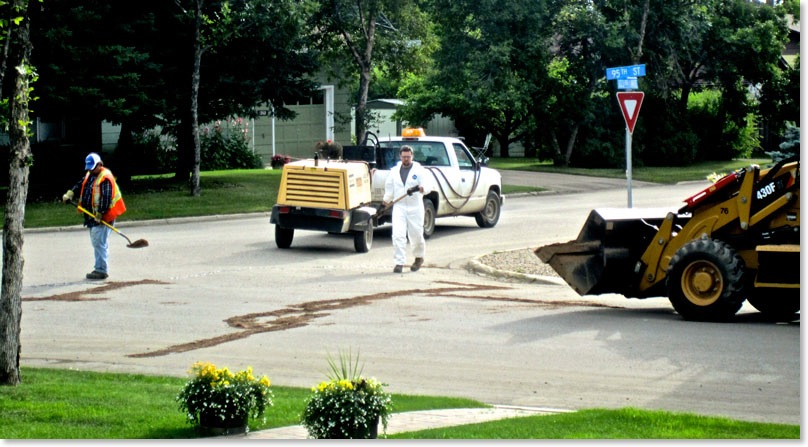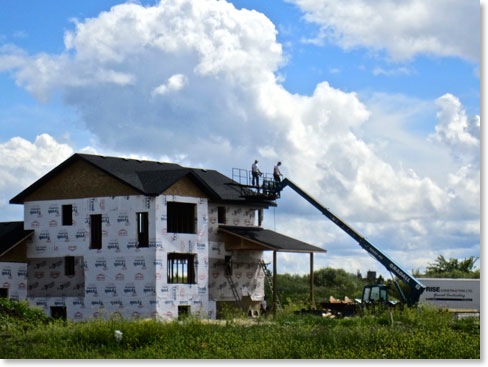 When you are out driving around Tisdale, you will notice a significant number of for sales signs. Existing homes, a few very new ones and empty lots, are on the market and it is a positive thing to also notice that, "sold" signs are appearing on those signs in regular fashion. About four new houses are underway, or nearly completed, including this one in the new area just east of the North end of Newmarket. During the winter, the huge
Caleb
complex was only about half occupied. Although there are still units available in that complex, much of it is now inhabited.


The long term care facility on the North side of the hospital is structurally complete and the extensive interior finishing work is well underway. Meanwhile, the medical office complex that is being developed on the West side of the hospital is really moving along. Its exterior is closed in and finished as it moves to the interior finishing stage. Work was underway last week and this, to install a new entrance for parking on the West side.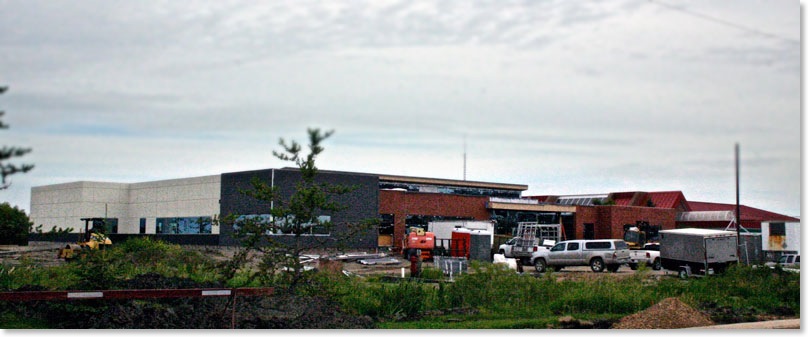 Tisdale shopping mall is definitely a big question mark.
Extra Foods
is in its final phase of closing down. Their stock is drastically reduced and for some time now, they have stopped having on hand the items advertised in the weekly flier. Both
Valle Men's Wear
and
The Clothesline
are comfortably downtown and the travel agency is no longer in the mall.
Fields
,
Sangsters
and
Mr. Ribs
appear to be pretty much all that is in that huge facility.

There are no developments whatsoever at the Southeast corner of the intersection of highways #3 and #35.
Harvard Development
is simply inert.


ESSO's
bulk plant not only closed, but all of its equipment appears to have been removed leaving only
Petro-Canada
and the
Co-op
providing bulk fuel in this area.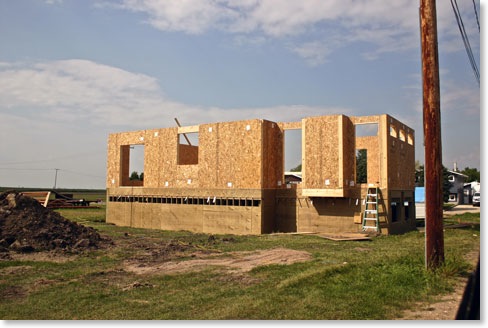 Just west of the Museum building, a new miniature golf course has been laid out and it looks like the tourist building will move off its blocks onto a foundation in that same area. Out in the Museum's village, at least one new building is taking shape.

The development of a new campground in a grain field east of town is presently stalled. No work has taken place for the past month since the topsoil was piled up, making way for the underground installations that are needed to fit out the site. The temporary campground is being used, but it is really only a gravel parking lot, so there is always space available for campers.


Though there are no signs of life at the closed former
Venice House/Western Pizza
restaurant it is still for sale, the sign at the former
Chicken Delight
has been taken down and it looks like some refurbishing is in progress. As we are talking about eating places,
Gus'
place was closed for a short holiday but is open now each day and the
Great Wall
downtown will be closed this week only, as the Fens are on a holiday.

Heavy duty earth moving is still going on in the new developed area south of Northern Steel Road. Two buggies and these two dozers (below) have moved earth from the area and brought in a huge amount of fill, which they have piled on a large hill on the area's east side. If you drive around Northern Steel Road watch out for the fast moving loaded and empty buggies.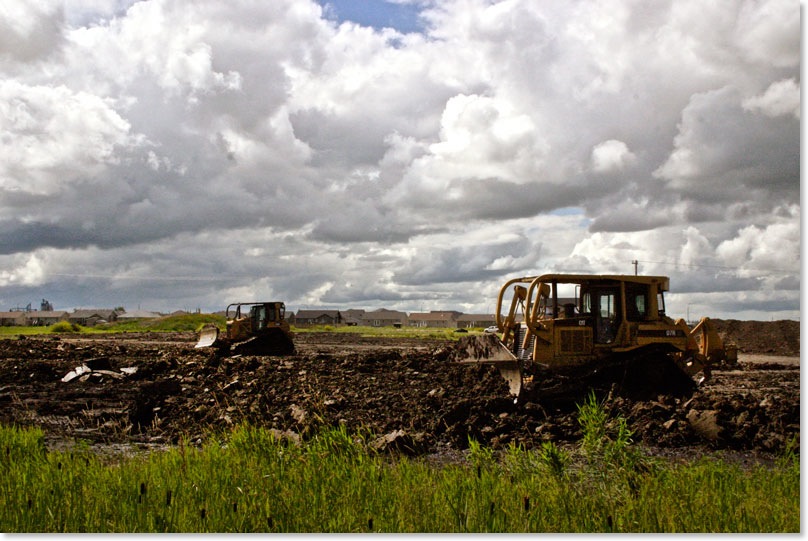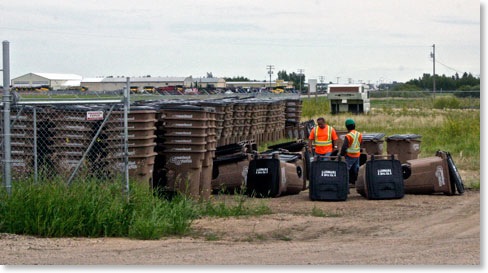 It appears as though Tisdale has outsourced its garbage and recycling to a Prince Albert company. Every household in Tisdale has had two plastic bins delivered and their bill for garbage doubled from $12 a month to $24. Definitely that doubling of the price suggests that the perfect service we have enjoyed for the eighteen years we have lived here, will be mechanised for "only" twice as much money.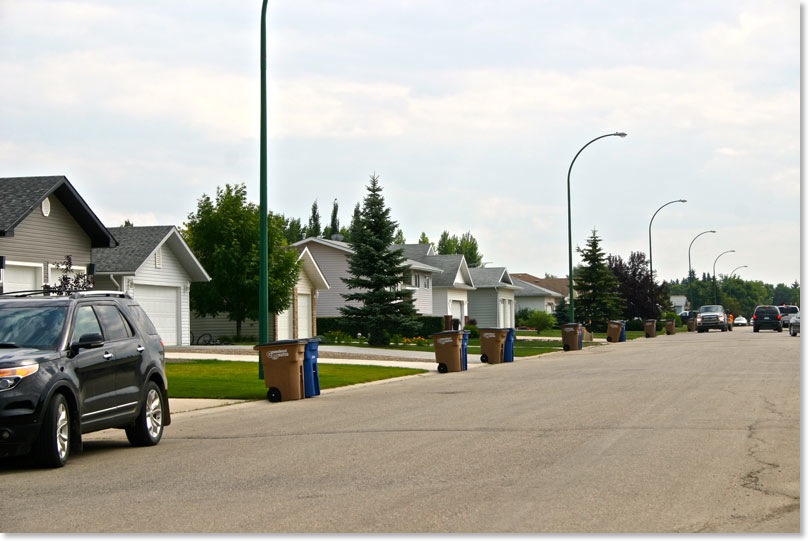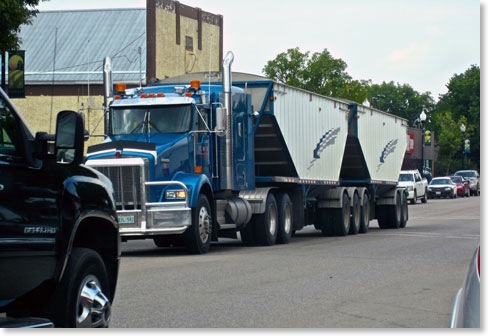 Though the mall is looking a bit dismal at this point, business downtown and in the rest of the community is rumbling right along. There are only two store fronts in the two blocks of downtown that are not operating and of the downtown businesses, two are new to the community.


Up on the North end of main street, the former
Randall
automotive building has been sold and another existing business in town will be using that facility for specialised work.

Rumours persist about further development of
Beeland Co-op
with the operation expanding, with additional outlets on highway #3 and they have closed up the parking lot and entrance to the North end of the main store. As with all rumours, it is best to just wait and see what evolves.

I am curious to see what will become of the various offices occupied by medical and related operations currently downtown, when those services move to the new medical complex beside the hospital.


Parrish & Heimbecker
has not been given construction a rest since they took over the dehydration plant several years ago. This summer has seen them remove some of the older steel tank storage and install state of the art grain handling systems over the tanks they have retained. It would appear, that they have been pouring bases for more storage tanks, but the whole area is a constant ongoing construction zone.