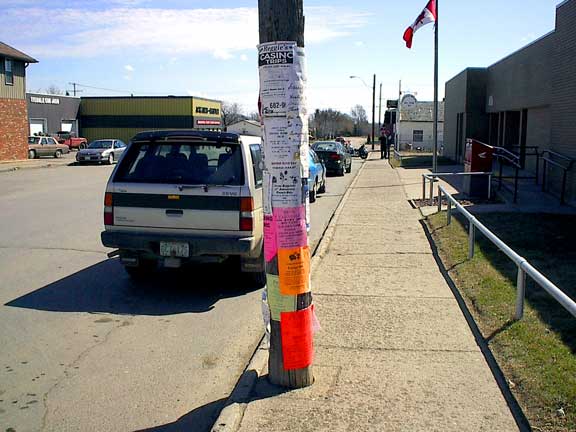 Getting Noticed
FTLComm - Tisdale - Friday, May 2, 2003
Once upon a time, not that long ago or that far away there stood a notice board beside two mail boxes you see in this picture.
With no mail delivery in Tisdale it is the custom of the town for everyone to make their way to the post office each day to dutifully pick up their bills and the tons of junk mail that seems to be about all you get in the mail these days. But we all know it is our duty and so we all make this daily pilgrimage.
When the notice board was in place signs for sports events, advertising for a band, a community event, missing pets, pets that should be missing, all the kinds of things people want to tell others about including garage sales, and various promotions. The thing was a definite eyesore, veritable blight on an otherwise seemly area. That notice board disappeared and since then those signs that would most assuredly be seen by everyone in the town each day have no place to be noticed.
We don't go to the grocery stores every day or other businesses but we continue to frequent the post office. Indeed this habit is inexplicable but rituals are rituals.
A few notices have been slipped up on the walls of the inside of the post office but this unfortunate pole has become the reasonable and equally unsavoury looking replacement for the old notice board. That birght orange one makes one bend over perhaps even consider getting down on one knee on the old sidewalk but there they are. Looks to me like a problem.
The little biweekly coffee paper put out in most restaurants will handle notices free and of course for a reasonable fee the Tisdale Recorder will include an ad on its pages and both of these are seen by most people in town but still folks want to have that sign at the post office because everyone goes there. As I was thinking about this problem I wondered if Ensign and Saskatchewan News maybe should have a notice board place but since we do not accept advertising perhaps not. However, I am willing to set up a page just for notice boards that people can go to so if you want to try out an Internet notice board, let's give it a go. I will put a link from the front pages to the notice board and we can see what happens.
But in the mean time it looks like this pole is going to have to absorb a lot of future punishment.
---
Return to Ensign - Return to Saskatchewan News
This page is a story posted on Ensign and/or Saskatchewan News, both of which are daily web sites offering a variety of material from scenic images, political commentary, information and news. These publications are the work of Faster Than Light Communications . If you would like to comment on this story or you wish to contact the editor of these sites please send us email.
Editor : Timothy W. Shire
Faster Than Light Communication
Box 1776, Tisdale, Saskatchewan, Canada, S0E 1T0
306 873 2004