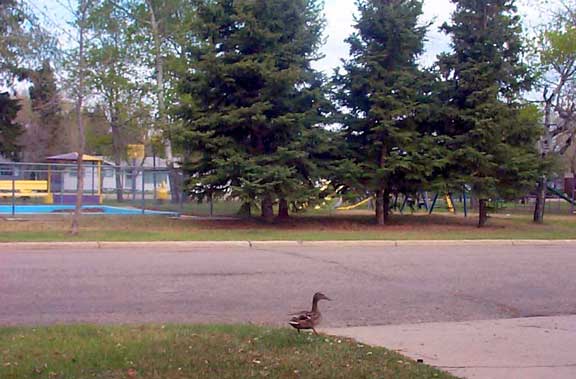 picture by Julie Beaudette
She Prefers Humans for Neighbours
FTLComm - Tisdale - Friday, June 7, 2002
It is almost four blocks from the Lions playground and paddling pool to the Doghide River yet for the second year in a row this Malard mom has decided that it is safer to face the prospects of moving her young family over mainstreet than taking her chances with preditors along the river bank.

Last year she located her nest across the street in a carrigan hedge a block to the East and did not seem to mind the attention she and her family got as strollers would look in on her from time to time.

This year she chose to make her nest beside the little buidling beside the paddling pool, on the East side. Julie Beaudette's picture above is looking from the East side of the park as she was over in Julie's yard picking up a quick lunch.

Late yesterday afternoon I was a block away on the West side of the park and watched as two curious children looked in on her and her brood. Julie says that she had nine eggs but due to some misadventure with some children she is nesting seven.

As I took this picture two ladies on their evening stroll we on their way over to just take a peek and see how she was doing.

At first one would think it pretty strange to set up a nest in a children's playground but consider the dangers down by the river. In the playground though there are children around there are no fox or skunks looking for duck eggs, dogs do not run around free and despite the noise of onlookers there is little to worry about. Down on the river bank their are a wide range of wild and semi domestic preditors who would make short work of a nest of nine eggs. So all in all she has decided to take her chances getting the waddlers across the street and over to the river when the time comes. In the mean time she just has to put up with the tourists.