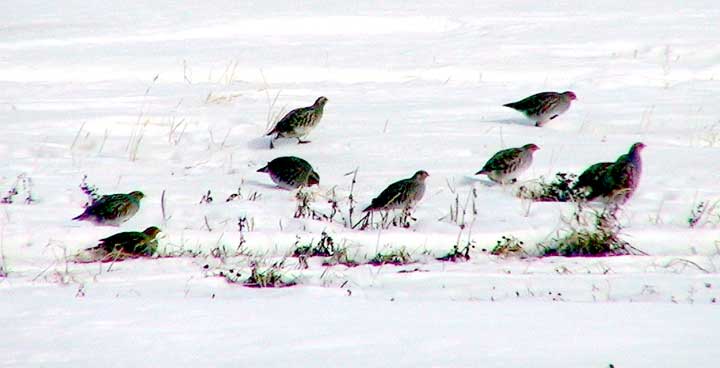 Partridge
FTLComm - Tisdale - Tuesday, March 9, 2004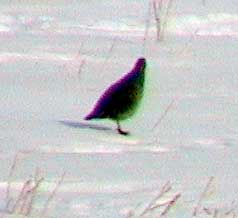 My father grew up during the desparate times that lives in his generation's memory as the "dirty thirties" and those years in Southeastern Saskatchewan were times of very serious deprivation. I grew up in the fifties, after the war and we as a family, seemed to do considerably better each year, but I so clearly recall my father's intense feelings about hunting "chicken." Now this was done not with small calibre shotguns (410) in his world, but with a simple 22 rifle and for him it was a passion. For during the thirties there was often little to eat and bringing home a rabbit, or a few prairie chicken was an important thing to a family when all the grew was couch grass as the wind blew everything away.

In the Southeast part of Saskatchewan there were two birds around almost all of the year and often in surprisingly good numbers, even during those dry years. The fluffy Sharp Tailed Grouse that everyone calls a "prairie chicken" and the much smaller but much better eating Partridge. The Gray Partridge was introduced into North America, but is really native to Europe and Asia and my father and his friends called them "Hungarian Partridge". In perhaps 1950 or 51 I recall my father bagging a bunch of these little birds and my grandmother cooked them up. They are very dark meat but believe me, they are amazing, even now as I write about them, I can remember the flavour and rich meat of these small birds. Hunters often get a well earned reputation for just killing for sport, but that was never the case in our family and this winter looks like the year to have harvested some great little delicacies.

Yesterday, on the CBC (540) noon hour phone in show, the guest was a noted Saskatchewan bird watcher, who pointed out that the numbers of Sharp Tailed Grouse and Gray Partridge were higher then ever reported before. On a recent trip to Swift Current and back we had seen flock after flock of both species between Raymore and Regina, but today, just west of town here was this fine bunch of Hungarian Partridge having lunch on a field across from the livestock auction centre.

These birds are found in southern British Columbia, central Alberta, south and central Saskatchewan and south to northeastern California, central Nevada, northern Utah and central Wyoming. They like open farmland and grainfields. They place their nests in grass-lined hollow in grass or under a bush with ten to twenty-two olive coloured eggs.

Return to Ensign - Return to Saskatchewan News
This page is a story posted on Ensign and/or Saskatchewan News, both of which are daily web sites offering a variety of material from scenic images, political commentary, information and news. These publications are the work of Faster Than Light Communications . If you would like to comment on this story or you wish to contact the editor of these sites please send us email.
Editor : Timothy W. Shire
Faster Than Light Communication
Box 1776, Tisdale, Saskatchewan, Canada, S0E 1T0
306 873 2004