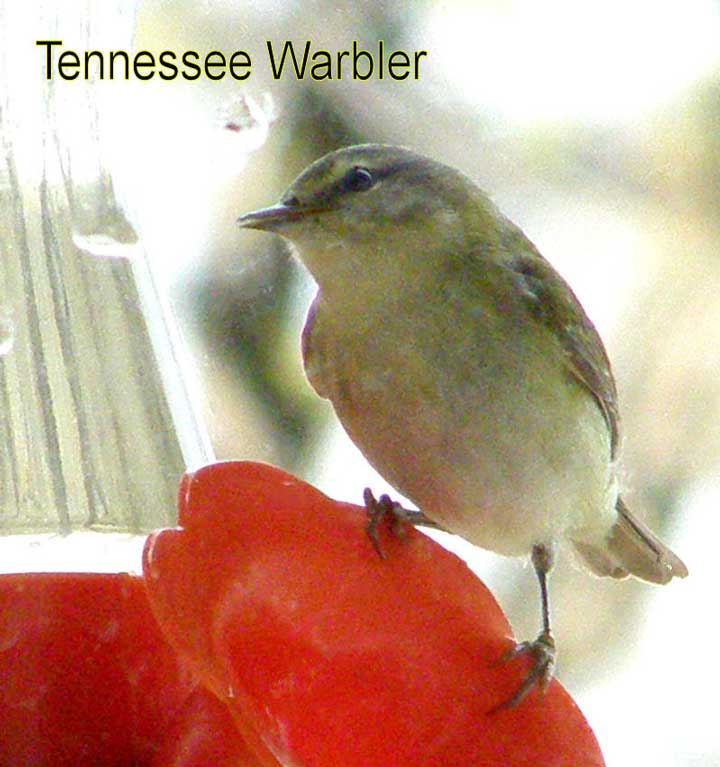 Tennessee Warbler -
Vermivora peregrina
---
Carrot River - Tuesday, June 2, 2009 by : Helen Carson
The new bird at our feeder is the Tennessee Warbler. A plain bird, with its gray head and greenish back it looks similar to a vireo. It has a yellowish eye bar and a trace of a wing bar.
At 4 3/4 inches, it is a tiny bird and shares the feeder with the Hummingbirds.

---
Return to Ensign
This page is a story posted on Ensign, a daily web site offering a variety of material from scenic images, political commentary, information and news. This publication is the work of Faster Than Light Communications . If you would like to comment on this story or you wish to contact the editor of these sites please send us email.
Editor : Timothy W. Shire
Faster Than Light Communication
Box 1776, Tisdale, Saskatchewan, Canada, S0E 1T0
306 873 2004