Big Mak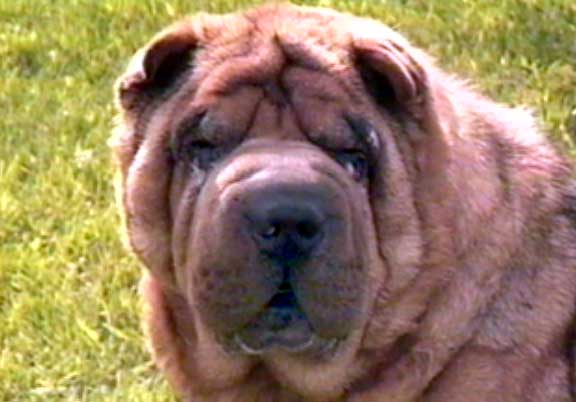 FTLComm - Tisdale - June 2, 2000

Seven year old Mak a Chinese Shar-Pei is nearing the end of his life. This breed of dog has a relatively short life span and among dog breed considered to be one of the highest maintenance. Link the Chinese "Chow" the Shar-Pei has a blue black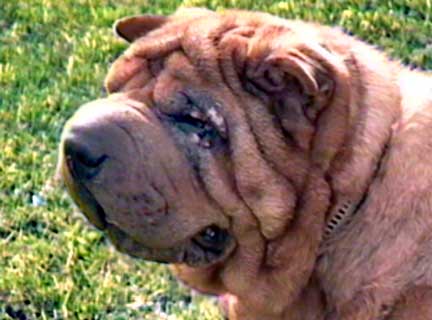 toung which is very different from most of man's best friends and this suggests that the two breeds may share a common ancestory.

When the owner told me about what she knew of the breeds history, I asked her if the breed had been used for food. I realise that was a tasteless question but this is a beefy animal showing plenty of aggression and self control. But the owner assured me that the breed was believed to have been used as Emperor guard dogs and I found one reference to them calling them Chinese "War Dogs". Apparently Mak is true to his breeding as he guards his house jealously with only the owner's brother having gained his confidence otherwise no one else gets in when the owner is away. When I came into the yard, camera in hand Mak re-arranged the yard furniture to make sure I was aware that it was his yard and I was to keep my distance.

The high level of care relates to the things that make him an example of his breed. All those wrinkles stay put and cause him considerable discomfort at times and when it comes to his face they can infringe on his ability to see. So much so that Mak has had surgery to give his eyes a little more room and a little more vision.

During the tense years in China when the Cultural Revolution was in full swing almost all dogs in the country disappeared and the traditional Chinese breeds like the Shar-Pei were only to be found in places like Hong Kong and outside the country.

Shar-Pei owners are intensely attached to the dogs and when I checked them out on the web discovered over 127 references most of which are owners with pictures and stories about their dogs.

Mak has been to and graduated from school as he responds to commands and though clearly an individual he is willing to accept his owner's authority.