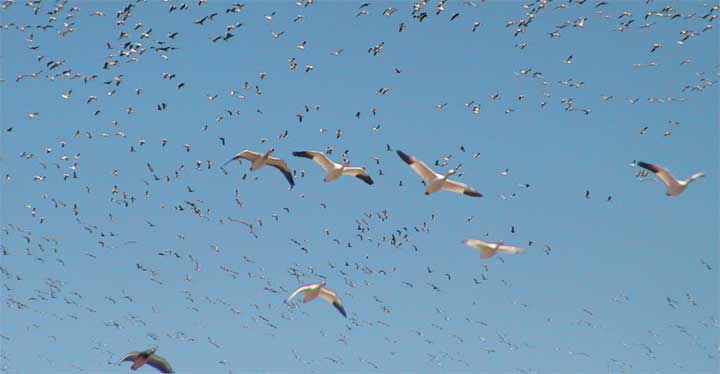 Snow, Blue and an Emperor
FTLComm - Tisdale - Monday, September 27, 2004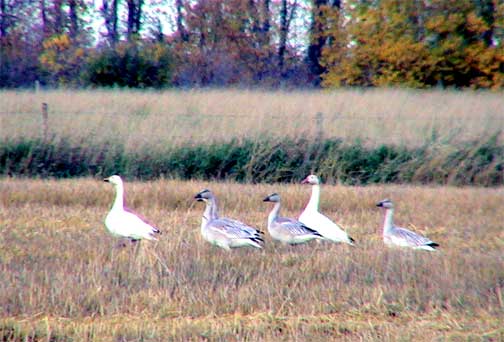 The arrival each spring of the massed flocks of arctic geese is always a sure sign that the winter is over. Last spring they remained in this part of Saskatchewan for more than a month as the cold spring kept northern lakes frozen late into June. These birds of all varieties are smaller than the grand Canadas that make their home here.

Scientists are not in complete agreement as to what the Snow Geese (right) and the dark coloured Blue geese have in common. They are identified in the bird books usually as two separate species but Roger Troy Peterson says that many believe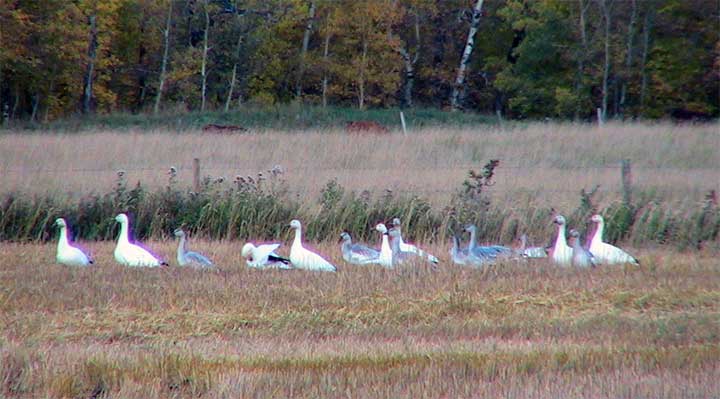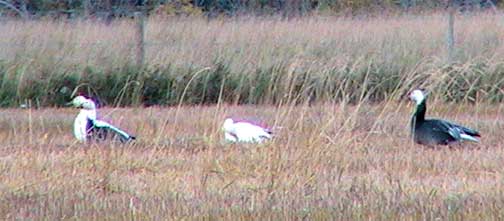 the two varieties to be the same species with unusual age colour changes. Whatever the case the Blue and Snow geese are the same size and are always seen with one another. This picture and the one below are interesting because in these two images we see a completely different species which also appears to travel along with the Snow geese.

The Emperor is marginally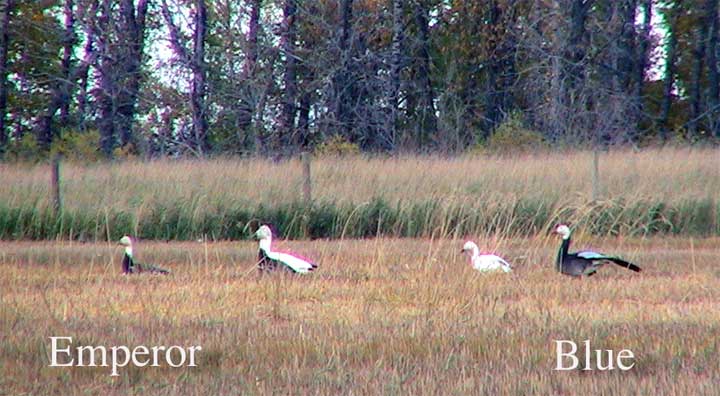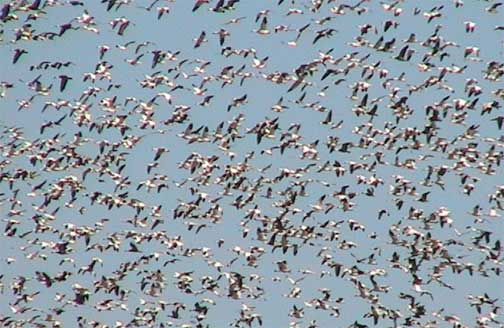 smaller and in the picture above you can see the simple difference in the neck marking that is the main difference between these two dark versions to keep company with the black wing tipped Snow geese.

Once you move to within shotgun range of these huge flocks they will launch and take the rest with them as they take off singley and in seconds from lift off sweep into their characteristic formation. If you are driving by them and do not slow down they will ignore you and your vehicle because a moving vehicle poses no threat.
Return to Ensign - Return to Saskatchewan News
This page is a story posted on Ensign and/or Saskatchewan News, both of which are daily web sites offering a variety of material from scenic images, political commentary, information and news. These publications are the work of Faster Than Light Communications . If you would like to comment on this story or you wish to contact the editor of these sites please send us e-mail.
Editor : Timothy W. Shire
Faster Than Light Communication
Box 1776, Tisdale, Saskatchewan, Canada, S0E 1T0
306 873 2004