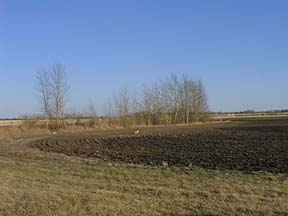 Geese don't pay much attention to cars thundering by on the highway but a person with a camera walking toward it is definitely considered a threat and though I spent a lot of time on this with the wind coming from the South this Canada goose was not interest in appearing in Ensign as a closeup.

You can see on the right that dot in the middle of the wide angel lens of my little digital camera is a very good looking goose but that is as close as I got because he waddled away from me even though I was careful only to walk toward him when he was looking South but the devil has eyes in both sides of his head and he knew I was a wannabe pesky nature photographer. So after several minutes of us both waddling he jumped into the air and cruised away.

But I'll get him, I know where he lives and the video camera has a twelve power telephoto lens so we are going after him another day.