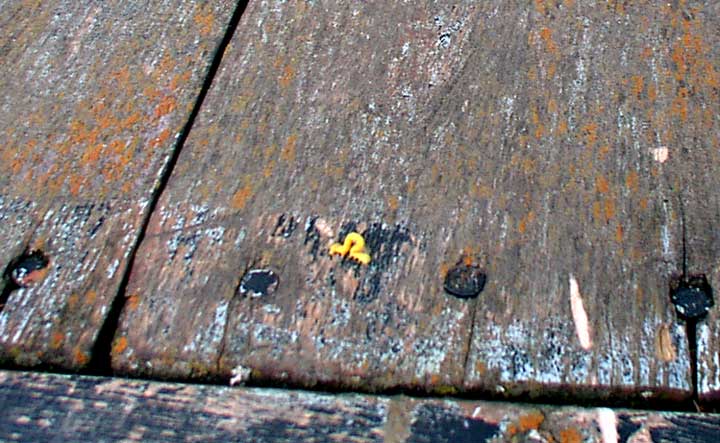 Inchworm
FTLComm - Tisdale - Tuesday, July 15, 2003

When we contemplate the complexity of our own lives it is of considerable value to take a look around us and see how other species cope. Today at lunch this little character came wandering across the steps, holding itself up on its back claws to sniff and sense around itself before putting down the front section to take just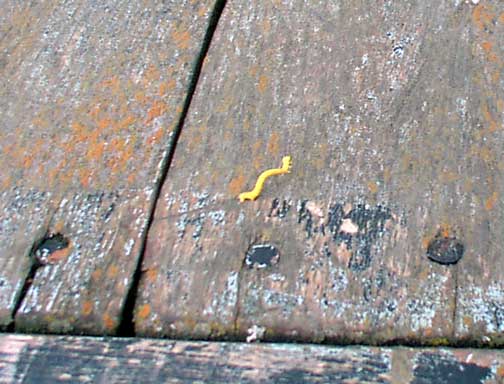 another step in what must seem to be the whole world.

Coming to the edge of the step it waved about considered the problem and selected a new path, then ventured across the wood checking out the lichen and at times appearing a bit confused about where it wanted to go, after all I suspect for it, just remembering where it had been is a major problem.

But it was coping, working its way this way and that, then reaching out into the void of space to make its way across a gap almost three quarters its whole length. I felt extreme admiration for this being, who only moments ago had been almost squashed by the foot of a human female. For it was making due in a world it can cope with, but there are forces, enormous ones that can destroy it in an instant, but it accepts risk and does what it was programmed to do. In a day or two it will find itself a safe place spin itself a shelter and wait for nature to transform it into another being with its little walk across our steps not even a real memory but more of a sensation, a distant awareness.

We each set forth upon journeys of one kind or another and sometimes we have to look about for the right pathway then take a chance and attempt to get over an obstacle. Many times we too, like the little inchworm are confused about where we have been and uncertain about where we want to go, but know that we have to take risks in order to fulfill our function in life.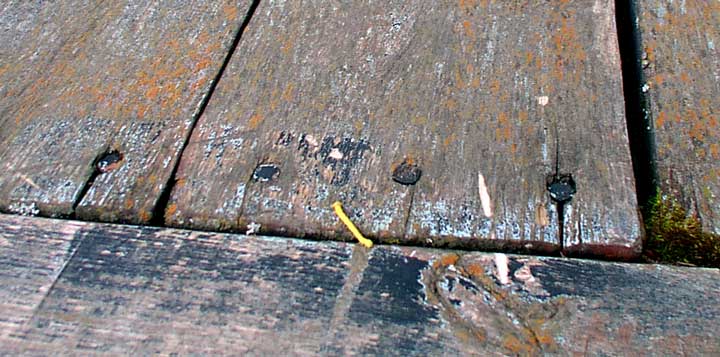 The children's song heard here was originally recorded and performed by the late Danny Kay, this is my humble rendition of this timeless little tune.
---
Return to Ensign - Return to Saskatchewan News
This page is a story posted on Ensign and/or Saskatchewan News, both of which are daily web sites offering a variety of material from scenic images, political commentary, information and news. These publications are the work of Faster Than Light Communications . If you would like to comment on this story or you wish to contact the editor of these sites please send us email.
Editor : Timothy W. Shire
Faster Than Light Communication
Box 1776, Tisdale, Saskatchewan, Canada, S0E 1T0
306 873 2004