Michael Townsend - Vancouver - February 2, 1999

Dale Warke of Saskatoon is the featured artist at the Vancouver Library. Dale now makes his home on the West Coast and this show was a remarkable success for him as paintings and pencil drawing sold from $250 to $1,500.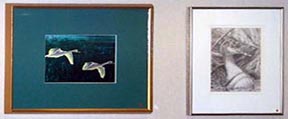 Dale Warke is seen below with his pictures and in the picture below that talking with another Saskatoon refugee, Terry, known for his passion for classic cars.