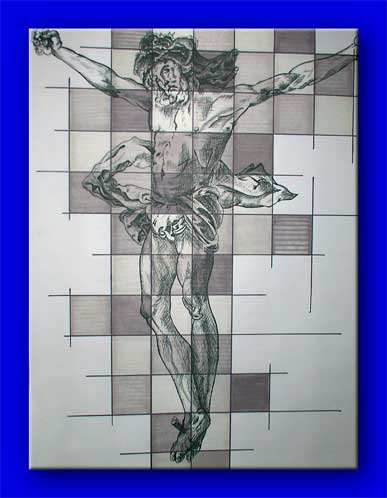 "For God so loved the world he gave his only begotten son . . ."
FTLComm - Tisdale
Friday
April 9, 2004
illustrated by Dawn LaRochelle

People all around the world set this day aside to recognise the death of Jesus of Nazareth, a Jew who was executed about 1,972 years ago by the Roman controlled government of Palestine at the request of the Hebrew leaders of the day.

Most scholars consider the trail and execution a political event as Rome needed to control that part of the Middle East and the religious threat to the establish Hebrew religion was substantial.

The man had distinguished himself as a wise and gifted leader offering his followers hope and a way of life. That alone, without the religious beliefs that have come to be a part of his legacy would have been enough to commemorate his life and contribution to humanity.
"unto you I give another commandment, that you shall love one another."
Return to Ensign - Return to Saskatchewan News
This page is a story posted on Ensign and/or Saskatchewan News, both of which are daily web sites offering a variety of material from scenic images, political commentary, information and news. These publications are the work of Faster Than Light Communications . If you would like to comment on this story or you wish to contact the editor of these sites please send us email.
Editor : Timothy W. Shire
Faster Than Light Communication
Box 1776, Tisdale, Saskatchewan, Canada, S0E 1T0
306 873 2004