Tisdale Student Summer Employment Centre
FTLComm - Tisdale - Wednesday, May 26, 2004

Last summer the student employment centre was operated by a Federal government agency a couple of days a week and was a non-entity providing almost no assistance to students or prospective employers.

Returning to the way things were done in the past the Tisdale Chamber of Commerce is sponsoring this year's employment programme and Renee Perrault, this year's manager, has her office right in the Chamber of Commerce office in the Tisdale Mall.

The Centre has employment opportunities listed on the wall in the office and is also maintaining a presence in TMSS. Students can list themselves with the Centre and Employers now have a place to go to get the valuable summer help that they need to operate their businesses.

Summer students fill an important role in today's business world giving employers an opportunity to schedule summer holidays for their full time employees and provide training and experience for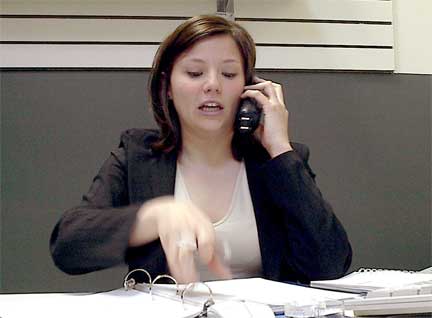 prosepective employees in the future.

The "Odd Job Squad" will be available to handle those jobs that both merchants and home owners alike need handling and Renee will be able organise these projects and provide a service to both students and the community.

You can reach Renee Perrault at 873-4257 or by fax at 873-424, or just click on her name to send her e-mail.
Return to Ensign - Return to Saskatchewan News
This page is a story posted on Ensign and/or Saskatchewan News, both of which are daily web sites offering a variety of material from scenic images, political commentary, information and news. These publications are the work of Faster Than Light Communications . If you would like to comment on this story or you wish to contact the editor of these sites please send us e-mail.
Editor : Timothy W. Shire
Faster Than Light Communication
Box 1776, Tisdale, Saskatchewan, Canada, S0E 1T0
306 873 2004