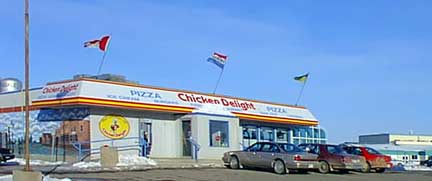 What's For Lunch?
FTLComm - Tisdale
February 18, 2000

About once a week I decide it is time to get out of my home office and see if there are still other forms of life on the planet and I go for lunch. You have see other articles I have done commenting on the subject of food in Tisdale, but as all things change, there is a need to update the data. Though I still rate "My Way" as high on quality, I have struck it from my lunch list right after I was charge nearly eight dollars for a four dollar lunch, it seems that my waitress and management disagreed on switching fries for soup so I didn't get the fries and I had to pay for the soup. But, another time we can talk about restaurant math, which is one of the wonders of the world.
Today the subject is LUNCH.
Like my Polish brother-in-law, I like things simple, for me it is meat and potatoes and for him perogies and sausage, but all and all, neither of us are big on surprises. Many years ago his wife and I met for lunch in Vancouver. She was on a business trip and I had come into Vancouver from Bella Bella to see Rick Hanson complete his journey. She took me to this truly "Yuppie" place where the walls were painted is pale pastels, oranges, blue flowers and peach circles, it was the sort of place that you felt you would be considered a leper had you no little finger to raise. We had some really bland pasta stuff and afterward we went somewhere for a hamburger because I was starved. I tell you this story because it is important to understand that for me, lunch should be basic.
Lunch should be something to get you through the day, if there is no flavour, a little katsup and you are on your way. Well two weeks in a row I have weighed the choices for a place to go for a late lunch and since I am ticked off with "My Way's" billing I have been looking about. The criteria is that I want something to eat, I want it to be in a pleasant surroundings and I want to pay around five dollars. The food quality at the Co-op is inviting but no matter how bright the lights, I feel pretty enclosed in there, "R Place" has windows but their menu leans pretty heavy toward the fat side, so I have gone to Chicken Delight, mostly because the glassed in area is the most pleasant surroundings in town. (Remember sports fans this is a guy would works on two screens in his basement around the clock each day)

Last week the lunch special which I was still able to get at 2:15 was "Rollie's Chowder" and a sandwich for $5.35. Add to that some coffee and you have a lunch for just over six dollars. "Rollie's Chowder" turned out to be absolutely splendid, so much so that after I finished I had to go find "Rollie" and tell him so. The sandwich was a croissant with a great salad salad combination. I don't know what it was, but it was fabulous. So the issue is, had I known what that sandwich was, there is little likelihood that I would have ordered something I would consider exotic and fitting for some "Yuppie" place.
Yesterday, I weighed things again and came up with the same conclusion and once again ordered Chicken Delight's soup and sandwich special for $5.35 with the coffee extra. This time I went for the plain coffee instead of some exotic blend of a week ago. My soup and sandwich arrived and right away I am thinking I am being delivered something weird, something my sister would order, or indeed make. The soup was a bean soup which was really hot and turned out to be delicious. The sandwich was not, by my definition of something put between two slices of bread, instead my sandwich were two very neat, perfectly cylindrical rollup affairs. Oh, no question this was some "raised little finger" stuff. It came with a salsa sauce. After a few spoonfuls of the great bean soup I tested the replacement for my sandwich with a little salsa applied. "Tadahhhhh!" this was good stuff. It was with considerable regret when my soup was gone and the last bite of my rollup things were gone. This was a fabulous lunch and had I known what I was getting, I would never, not ever, ordered it.
So the point of my story is this, we are omnivores, we need variety, to fill the wide range of nutrients we require and perhaps George and I have to widen our selection. The poor guy has no choice because my sister continues to cook up amazing dishes and he has to get perogies and sausage from his mother, in fact she makes up perogies for him and he keeps them in their freezer.
I have been known to really enjoy tacos, both because I think the dog is funny, but also because I really like them, so a little variety is okay, but lunch at Chicken Delight has been two home runs for two times at bat. The really good thing is that my lunch time is often delayed well into the afternoon and on each case I could sit in the sun and have a great lunch.

Timothy W. Shire