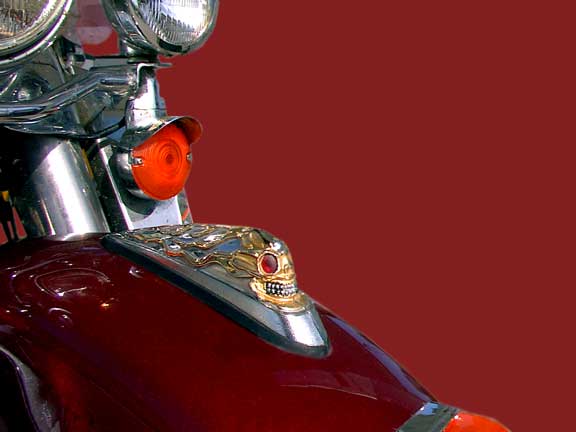 Disposable Income
FTLComm - Tisdale - Sunday, September 15, 2002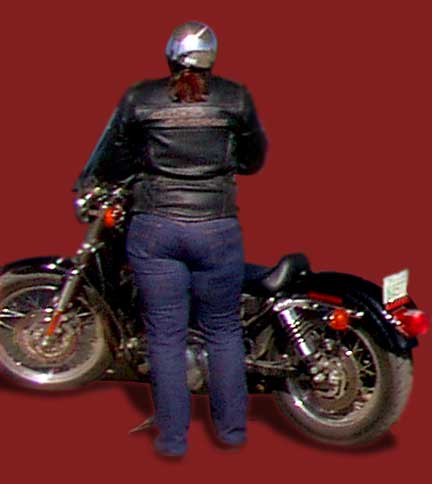 Close to noon hour today several motorcycles rumbled into Tisdale stopping for fuel and pulling in at restaurants for lunch.

I talked to one couple and the owner of this burgundy wonder told me that they were on their way into Saskatoon for "Chinese".

I mentioned the remarkable helmet his spouse was wearing and that her bike seemed like a much smaller version than most. He explained that this was a loaner as her machine is in the shop being rebuilt. It seems a driver of a car drove in front of this lady and the resulting crash did considerable damage to her motorcycle and put a nasty scuff mark on her shiny helmet (notice on forehead bottom picture). He did not mention how the rider made out but she was on a bike today.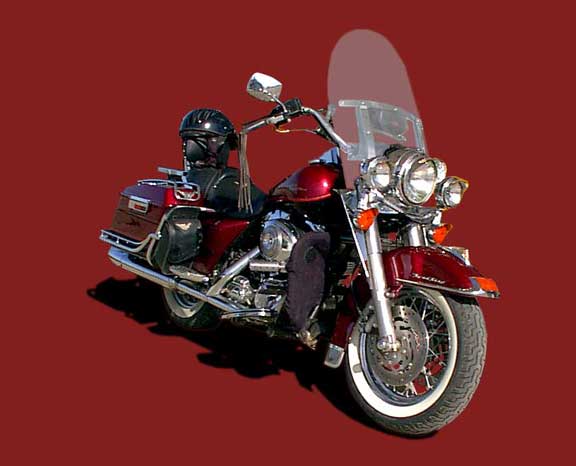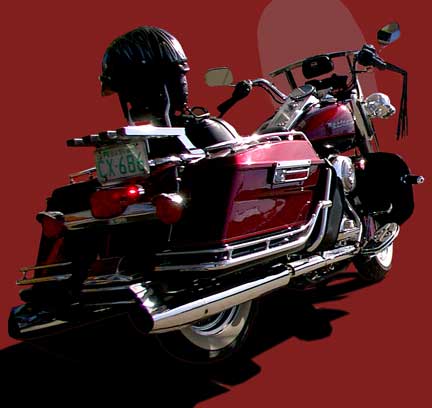 Like most Harley Davidson owners the machines are highly customised with a huge variety of after market trim and gadgets added to the basic motorcycle.

I noted to the owner that perhaps he definitely had enough tail pipe there and he began showing me the various additions he had made, these are shown off in this picture and the one below which shows a tailpipe and an after market light.

As I was walking away I spotted the front fender ornament seen on the top of this page and got a close up of this dubious enhancement. The owner proudly explained that it was wired into the the system and the eyes light up.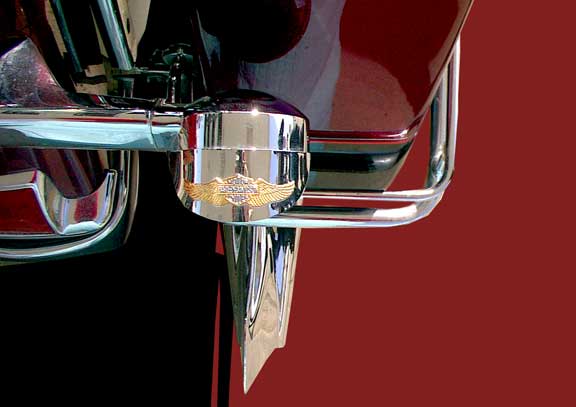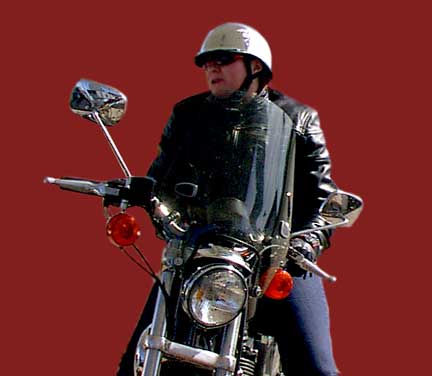 Today is a perfect day for a ride from Sturgis to Saskatoon and back on a machine that is usable for about six months of each year, so the owners of them like to make use of the weather and get the last days rides in before they have put them away for another year.

As we chatted about the limitations of use due to weather and the limitless additions a person can make to a machine including having them completely rebuilt with custom motors and like one machine in town today, turned into a tricycle, the owner pointed out that he definitely had no problem dealing with disposable income.
---
Return to Ensign - Return to Saskatchewan News
This page is a story posted on Ensign and/or Saskatchewan News, both of which are daily web sites offering a variety of material from scenic images, political commentary, information and news. These publications are the work of Faster Than Light Communications . If you would like to comment on this story or you wish to contact the editor of these sites please send us email.
Editor : Timothy W. Shire
Faster Than Light Communication
Box 1776, Tisdale, Saskatchewan, Canada, S0E 1T0
306 873 2004