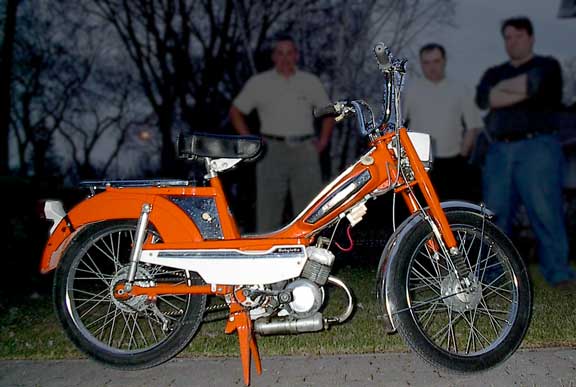 Mobylette
FTLComm - Winnipeg - Sunday, April 27, 2003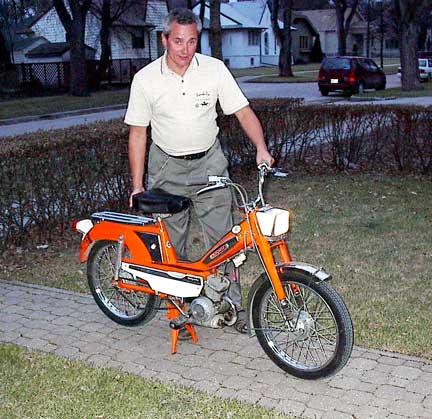 This is believed to be a 1963 Mobylette made in France and by the original creator of the MoPed. The owner father used the machine in his work years ago but it accumulated only 2100 miles in its life and is in new condition.

Though a few mopeds are seen here and there around the country they are surprisingly uncommon. The advantage of a vehicle like this would suggest that they would be ideal for use in a city. They require no motorcycle drivers license as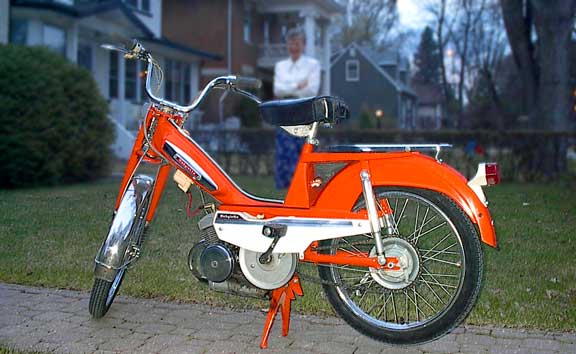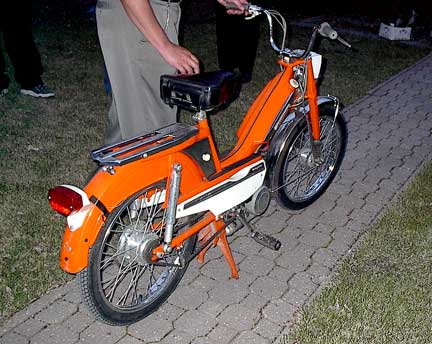 they have less than 50hp engines and are limited in their speed. Essential they are seen as a bicycle and yet unlike motorcycles or scooters they are amazingly quiet.

With it on its stand you simply peddle and the motor starts and off you putter. This is a two cycle machine requiring mixed fuel which goes into the two litre fuel tank (below).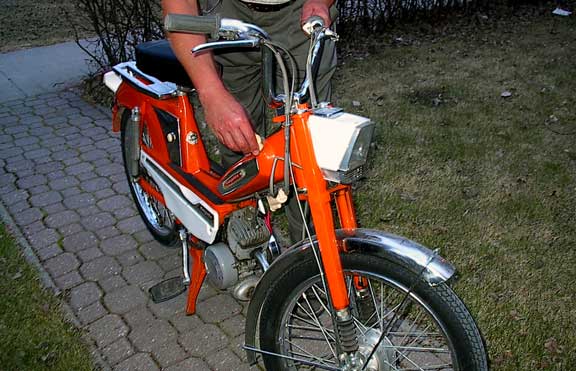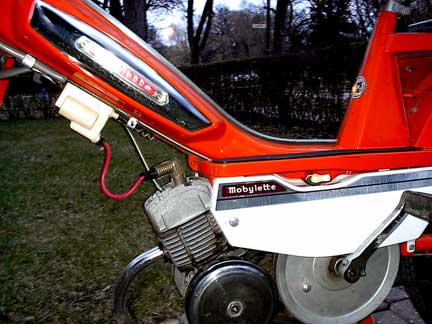 Though I had a shot at researching these machines I did not lock down much solid information. It looks like they were manufactured from the thirties onward and enjoy remarkable popularity true out Europe and even South America.

A 1977 model almost identical to this one sold on eBay today for under $400 US. But it was the only one on eBay.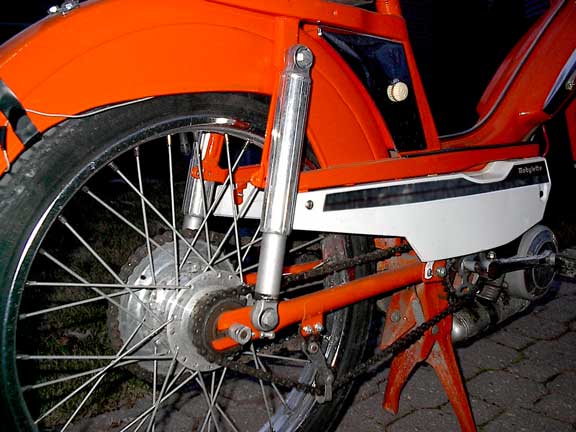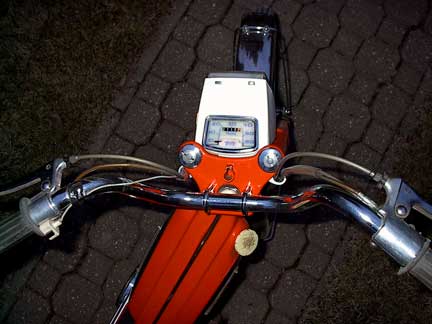 Put a cyclist helmet put some gas in the tank and you are off. No gears to shift and you can cruise with most city traffic at about 40mph. Seems like the perfect solution for most people who have to get to work in a crowded area where parking is unavailable.

Though there were lots of web sites about the Mobylette most were not in English but a sample of them is presente here for you to check them out.
References
This web site is in Portugues but has the author and some pictures of his 1976 Mobylette
http://www.terravista.pt/ancora/3780/Mobycomeco.htm
various ages of this device
http://motobecane.free.fr/mobylettes-apercu.php
Some outstanding images of a variety of vintage Mobylette machines
http://home.hetnet.nl/~kaptein.mobylette/
How about an electric powered scooter based on the Mobylette called the Trotinette
---
Return to Ensign - Return to Saskatchewan News
This page is a story posted on Ensign and/or Saskatchewan News, both of which are daily web sites offering a variety of material from scenic images, political commentary, information and news. These publications are the work of Faster Than Light Communications . If you would like to comment on this story or you wish to contact the editor of these sites please send us email.
Editor : Timothy W. Shire
Faster Than Light Communication
Box 1776, Tisdale, Saskatchewan, Canada, S0E 1T0
306 873 2004