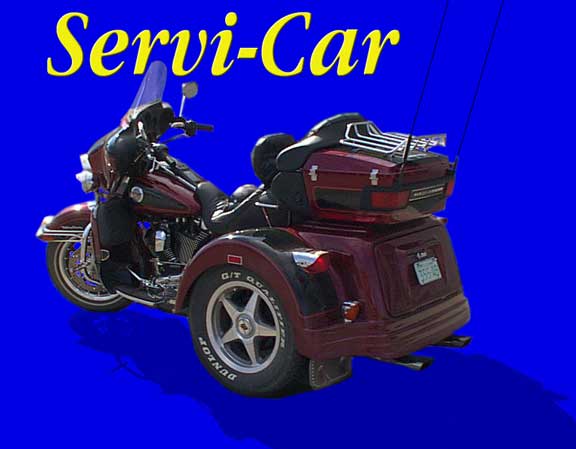 FTLComm - Tisdale - September 18, 2000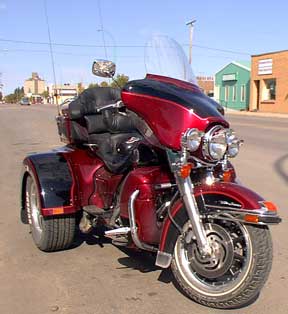 We spotted this machine parked on Tisdale's main street on Saturday afternoon. Clearly this is rare breed of one of Harley Davidson's heavy metal motorcycles. The machine has two wheels instead of one at the back making it a tricycle. All of us have seen custom machines which often were part Volkswagen, or part Corvair, but clearly this is a factory production product.

A search of Harley Davidson's web site proved to be fruitless so it was time to seek an answer from a lifeline. I had already used up my 50/50 and polled the audience so it was time to phone a friend. Michael Townsend was out, but I left a message and about an half hour later I had my answer.

I was dead wrong about it being rare. Michael explained to me that this was an example of the longest running production model in Harley Davidson's long and illustrious history. The very first one was produced in 1932 and given the name "Servi-Car" and remained in production until it was finally discontinued in 1973. When it was introduced in the blistering depth of the depression, it sold for $432. I doubt if that would pay for the classy custom head lights this one sports today.

Michael explained to me that the thing was introduced for use by the US postal service, was popular with police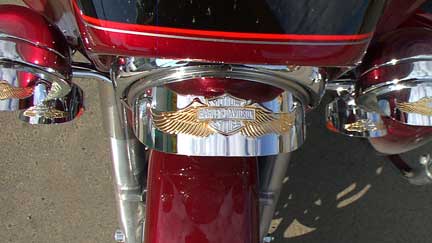 services and was used by
the military, as a delivery truck and just about anything else you could sit on what was essentially a three wheeled pickup truck.

Though it had a wide range of engines the most popular version was that with a 750cc engine. Mike said that there had been some made with a drive shaft but most were chain drive.

There is no doubt looking at this example that the owner had added a lot of accessories to make this a really amazing vehicle and those accessories even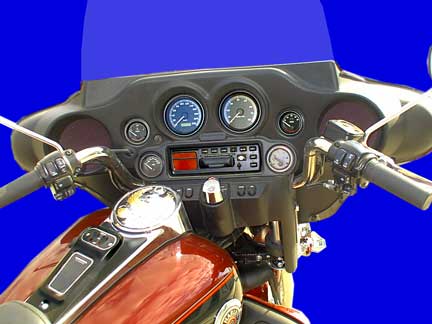 included a Harley Davidson
skull cap for the rider.

Since these machines have been out of production since seventy-three this one looks to have had considerable updating as it includes a communication system and stereo, as well as a fuel calculator.

Looking over the comfortable seating arrangement and that sturdy two wheeled back end prompted my wife to suggest that this would make a great thing to take on a vacation. With fuel prices being what they are and will continue to be this machine conservatively sips fuel, so much so that it would make travel more than affordable.

From nose to tail this example is fitted out and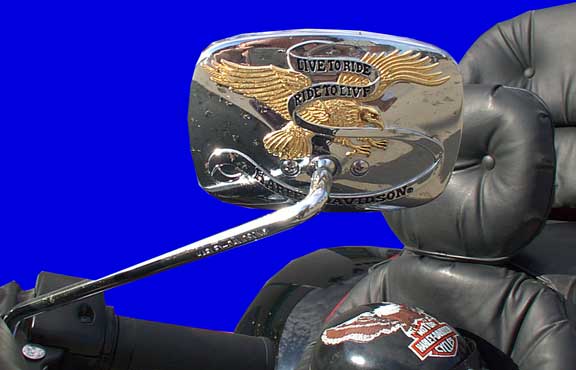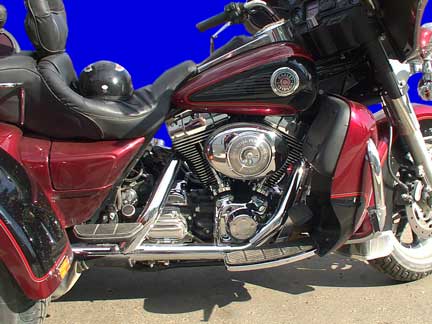 shined up to show conditions.
Only the bugs on the front betray the fact that this machine is a working street and touring vehicle.

A great vehicle for the summer months but a tad impractical for more than half the year in this part of the world. Michael only licenses his Harley Soft Tail until the end of this month when it will be graciously and carefully moth balled until the sun of spring fills the April sky in the interior of British Columbia.

But for a few more glorious days Harley Davidson and rice burner buddies will roll their two, and three wheeled contraptions around the highways rumbling just a few more times for the summer of 2000.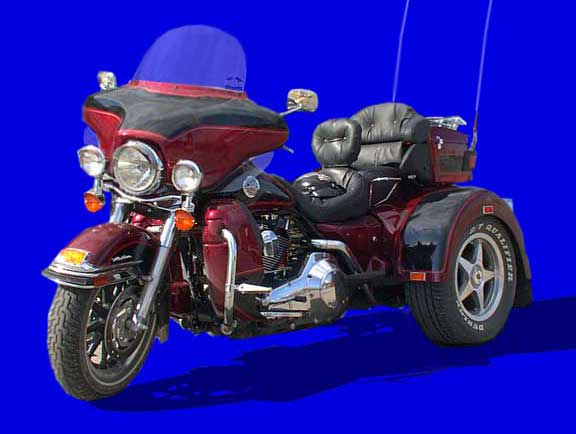 Well at least that is what we thought we were looking at but many motorcycle folks have looked at this and immediately realised that it can not be since the Servi-car was out of production when a machine of this type would have been made. Don Winecoff tells us:The motorcycle shown is NOT a Servi-car. It is a 1999 or later Electra Glide Ultra with a trike conversion. The high tech gadgets are all or almost all original from the factory. Most likely it was done by Lehman Trikes a Canadian company known for their conversion work http://www.lehmantrikes.com/.