Front Pages 2000
On days where a single picture is featured on the front page of Ensign with no accompanying story it is nice to preserve the image so that if you missed seeing that day you can still see the picture as it was originally shown on the front page. We have kept a collection of Front page pictures for 98 and 99 but the page has become so large that it takes eight minutes to load so we have begun a second "Front Pages" page with only those front page pictures beginning in January of 2000.
---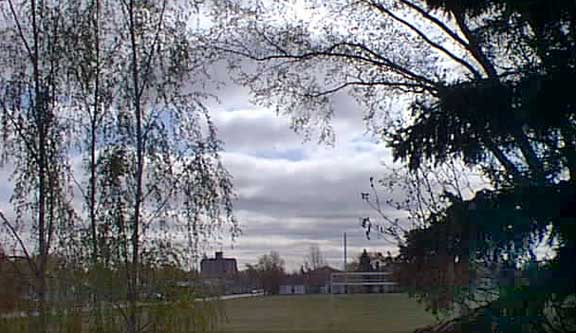 Wednesday
May 17, 2000
This is the May sky greeting us in this part of the province this morning with the wind almost still and the sun breaking through the patchy sky. We take a second look at another court house, this one in Swift Current.
---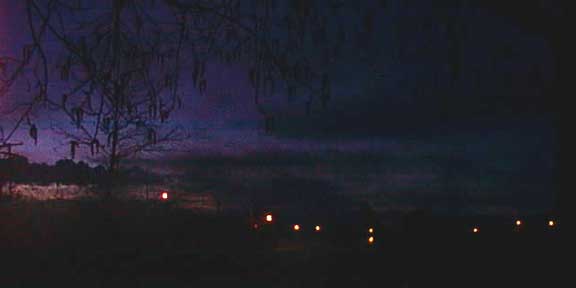 Sunday
April 30, 2000
At the end of the fourth month of the new century we take time today to consider quilts, sports goods and a spring morning sky. The picture this morning was taken long before dawn at 0427 as the fleeting clouds of the few showers of yesterda drifted away.
---
Sunday
March 19, 2000
This picture was taken at sunrise Saturday morning West of Melfort. Though the wind was cool all day the sky cleared and the country was drenched in sunlight. You might want to check out the newly overhaulled table of contents as Ensign has upgraded this section to further enhance the archieved material.
---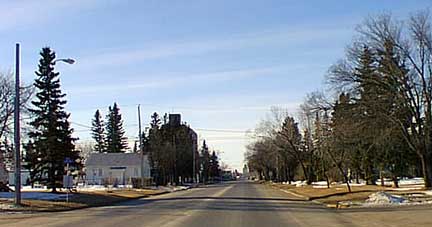 Saturday
March 11, 2000
This is how Tisdale's main street looked at 9:30 this morning, lots of sunlight and a bit chilly in the shadows. Today Ensign will be posting a new concept in marketing, road asalt and Mario's concerns about the North East Health District, these will appear this morning around 11:45 thanks for dropping by this morning.
---
Friday
March 10, 2000
Only ESSO so far has changed gas prices in Tisdale Thursday when it met the Regina price of 72.9 (that would be more then $3.00 a gallon). All other outlets remain at the same level as reported earlier this week. It is interesting to note that the price in Kamloops B. C. varies from 62.9 to 68.9. Picture above taken Thursday at 7:00 PM.
---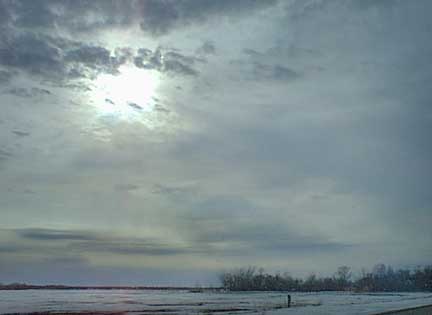 Tuesday
March 7, 2000
This picture was taken yesterday afternoon with heavy snow falling to the West and North it appeared as though we too would soon see snow but alas this did not happen. Instead the Wheat Pool has suspended trading on the stock exchange as it re-organises, todays news is filled with yet more discussion on health care. It is a topic that won't go away. We have published countless articles on the subject and today is no exception as Mario explains the "wellness model" issue and how home care is a dodge. This article and the Recplex March calendar will be published at 10:45 this morning so drop back then and check things out.
---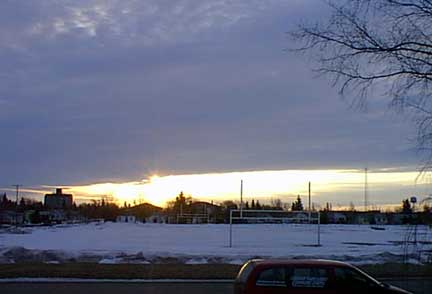 Monday
March 6, 2000
There is a certain seemliness to this morning's Monday sky. Two solid layers of cloud over our heads and the temperature on the positive side of zero. From Alberta we hear that the RCMP works for oil companies and in Saskatchewan there has been deafening silence since the RCMP task force went to work on the Saskatoon investigations of the city police death squad alligations. Chile's dictator Pinochet is back home in Santiago, the Sandra Schmirler funeral is live on CBC Newsworld and CBC Radio 540 at 1:00 today. Enisgn will publish an article on child poverty by Mario deSantis later this morning and - - - have a nice day!
---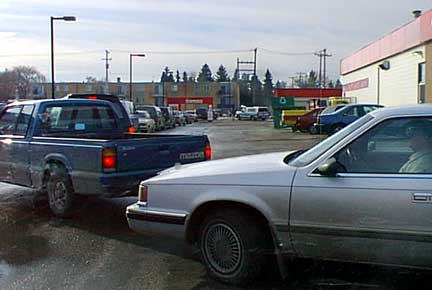 ---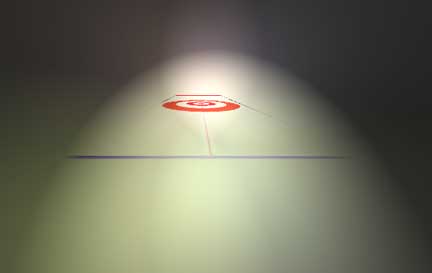 Thursday
March 2, 2000
Today we recognise the passing of one of Saskatchewan's great heroines. Sandra Schmirler died last night leaving her family, the curling community and Saskatchewan people saddened at the loss of a thirty-six year old mother of two and the person who most raised the game of curling to its greatest heights and world recognition. We are all better for having lived during her time and regret that it was not longer.
---
---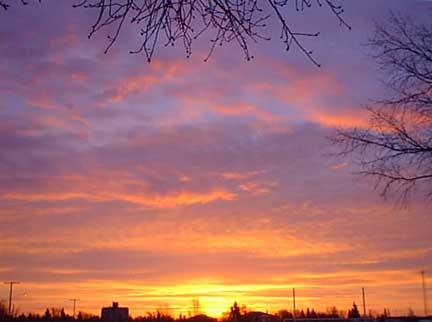 Thursday
February 24, 2000
A pretty glorious way for the sun to say "good-morning" this picture taken just before sunrise today show the extensive low level cloud cover and the stratus layers above. Today we have an account of last night's Rambler and Nipawin Knight's game. This will be posted around 10:30 this morning, so thanks for dropping by come back and check out the game later today.
---
Sunday
February 20, 2000
This is the 6:40 predawn sky of this morning. The cirrus has pretty much left the sky now and we are experiencing an outstanding later winter day. There may be some material added to Ensign later today so you might check back later to see if there is anything new, thanks for dropping by today, I would love to hear from you.
---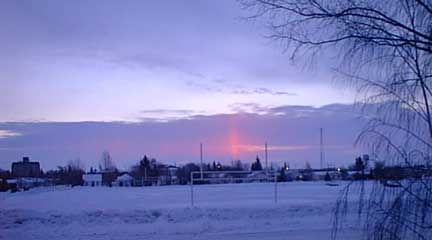 Wednesday
February 2, 2000
Like so many things, groundhog day is decided far away where the sun was shining this morning and both Willy and Phil saw their shadow and winter is to last six more weeks, easy for them to say! This picture was taken about 8:20 and shows this morning's stratus layers but winds will pick up through the day from the West. In the mean time send us e-mail.
---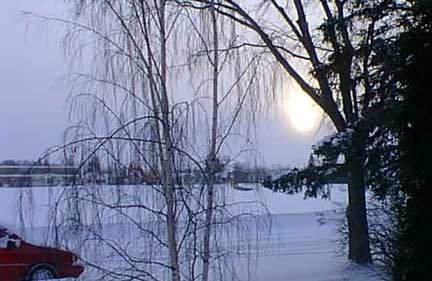 ---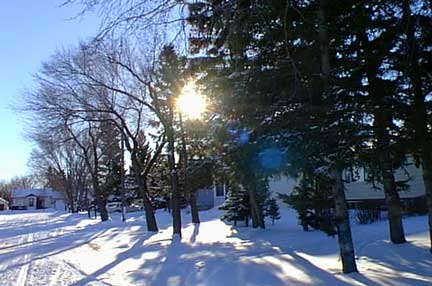 ---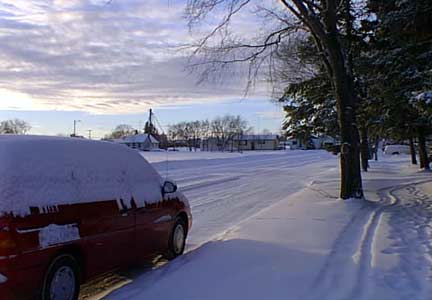 Sunday
January 9, 2000
Last night we were blessed with a couple of inches of fresh white snow. I took this picture at 10:00 this morning without a jacket as the temperature has krept up to -5. This morning we have a short report on the Junior Men's curling, and perhaps more, these will be posted just before noon today. Thanks for dropping by and why not take a moment and send me email, I need your input for guidance on the things we should have in Ensign.
---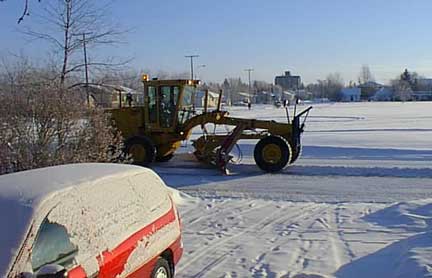 Friday
January 7, 2000
This image was taken yesterday around 11:00 as the sun came out to brighten our lives as this patrol cleaned up our street from the gradual nightly snow fall. With temperatures only -7 and rising today and this week end we expect it to be mild and sunny and there is enough snow for some cross country.
---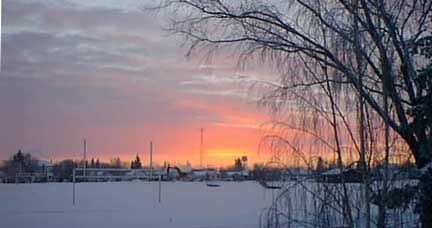 Thursday
January 6, 2000
With yesterday's "Three Mornings" article this makes four days in a row we have see a similar sunrise with a skiff of snow overnight. This picture was taken at 9:03 this morning. So where does all the rubble go? Check back later this morning to see what happens. Thanks for dropping by this morning.
---