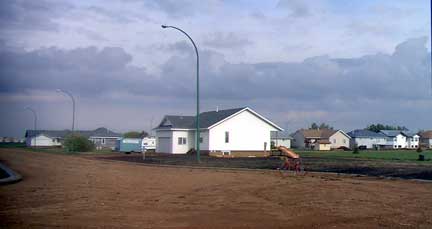 Chupa Trenching and Excavation dug this basement on Wednesday for was is expected to be a large 2,500 square foot house on the West end of what will become a Crescent in the new subdivision on the Northwest side of Tisdale. In the picture on the right you can see the new Burgess house has its siding as it is in the interior finishing stage.

The two new houses seen above on the left are as yet still on the market with one being completed and the other all but finished.

The footing have been poured for this new house as it will progress quickly with good weather for assembling a house. In this picture below you can see the view to the South is the sliding hill and the hospital.