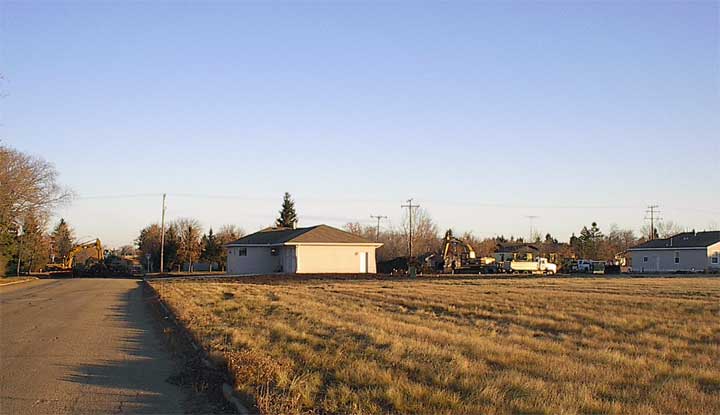 House number 7
FTLComm - Tisdale - Wednesday, November 17, 2004

This morning Chupa Excavation and Trucking began their day long work on a new house on one of the two remaining lots west of the Golden Age Centre. The water and sewer service were installed and the basement dug out and before the afternoon was over Rise Construction was on the scene laying out the materials to put in the footings tomorrow.

Both of the other two new houses on the block are finished and their owners have moved in or nearly so. Meanwhile Rise Construction has closed in the new Tri-plex with two of its units sold and ready for occupancy in early December.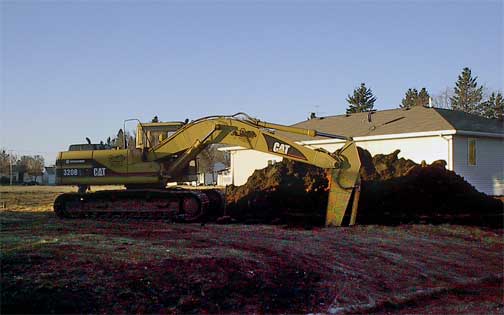 The Maple Ridge continues, floor by floor to get its interiors installed as the drywalling of such a large building takes a long time and Alberta workers are well along the way in putting on the building's stucco exterior.

But the sun hasn't set on new housing in Tisdale for 2004. With seven new single family houses built or under construction, eighteen new condominiums in the Maple Ridge and three new units in the tri-plex, dwelling construction in Tisdale is right on the trend established many years ago.

When you drive around the community you will discover there are a few older smaller homes for sale but almost no homes less than twenty years old. It is likely that the housing construction season this year is going to go well into the winter. We also have had a number of new homes constructed on farms in the immediate area so it has meant that the construction trades people have been hopelessly occupied. The same is true for the tradesmen who do upgrading as they are all but impossible to get as many home owners are trying to add a few touch ups on their present dwellings.

At the top of the page you can see the Town of Tisdale Crew busy at work as they are wrapping up a three day project of installing plastic pipe in a nearby intersection. All water lines in the area had been replaced with plastic over the years including this street earlier this year but the intersection itself was still cast iron up until Monday when it was time for it to be removed.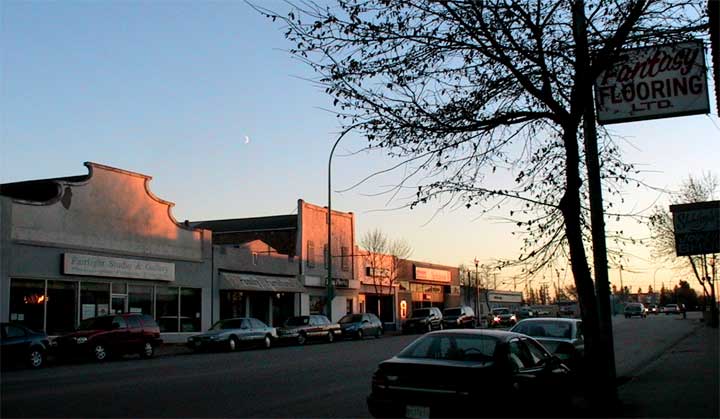 Return to Ensign - Return to Saskatchewan News
This page is a story posted on Ensign and/or Saskatchewan News, both of which are daily web sites offering a variety of material from scenic images, political commentary, information and news. These publications are the work of Faster Than Light Communications . If you would like to comment on this story or you wish to contact the editor of these sites please send us e-mail.
Editor : Timothy W. Shire
Faster Than Light Communication
Box 1776, Tisdale, Saskatchewan, Canada, S0E 1T0
306 873 2004