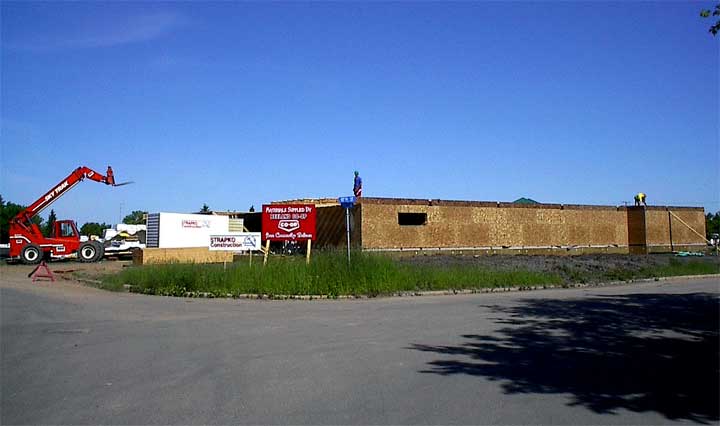 Maple Ridge Condominium first floor
FTLComm - Tisdale - Wednesday, July 7, 2004
It may seem painfully slow but the Maple Ridgte, eighteen unit Condominium is moving along right on schedule. Were the building to have been made of steel and concrete it would rise a floor a week but being of wood construction it is being assembled by a crew of tradesmen piece by piece and it takes time.

The first level of the building is the garage and all of its concrete work had to be completed with the base for the elevator prior to the assembly of the floors above.

The wood "I" beams and the first floor took some time to assemble but once finished the walls of the first level of condos has gone up quickly.

Fourteen of the units have been sold and two more have prospective buyers. Even when the remain units have been sold it will take a couple of years before developers move to build another of these buildings which could be on the south west corner of the TUCs field.

There is no question the skyline of this part of town is going to be dramatically different and by this time next week the old water tower will no longer be visible from our vantage point.

The picture at the bottom of the page was taken this evening and the two on the right on Monday. The image at the top of the page was taken June 30th.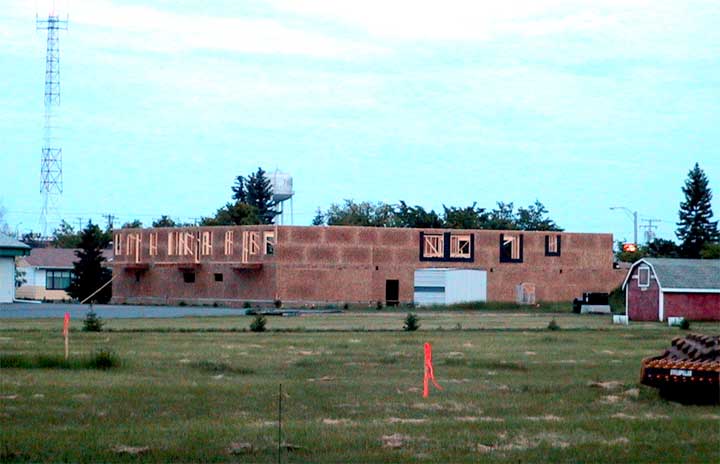 Return to Ensign - Return to Saskatchewan News
This page is a story posted on Ensign and/or Saskatchewan News, both of which are daily web sites offering a variety of material from scenic images, political commentary, information and news. These publications are the work of Faster Than Light Communications . If you would like to comment on this story or you wish to contact the editor of these sites please send us e-mail.
Editor : Timothy W. Shire
Faster Than Light Communication
Box 1776, Tisdale, Saskatchewan, Canada, S0E 1T0
306 873 2004