Ken Styan brought this project to light back on September 21.

Construction contractors have been hard pressed to keep up with the multiple projects that were begun in the fall and this one got its basement and has sat pretty much undisturbed all winter.
Now work is once more progressing on this house with the walls being framed and by the looks of them ready to be erected over the next couple of days.
Workers have been tied up all winter doing the interior finishing work on the many houses that were begun in the fall.
When you drive around Tisdale "for sale" signs are pretty few and far between as most of the market has been snapped up with only a few houses still on the market.
From the work flow it is likely that we are about to see housing starts begin once more in April as construction crews are ready to begin the whole process once more.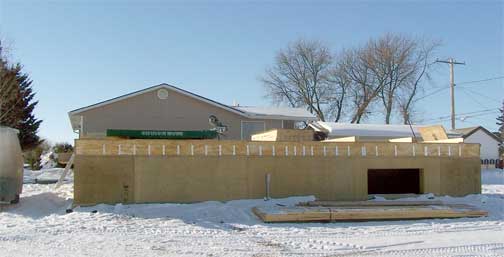 The biggest issue remains the shortage of labour as there just are not enough workers for the demand. We began a very modest bathroom renovation last June and zero progress has been made on that project since as there just seems to be no one available to do the job.
We will be keeping our eyes and the camera lens open for developments and will keep you posted as things develop.