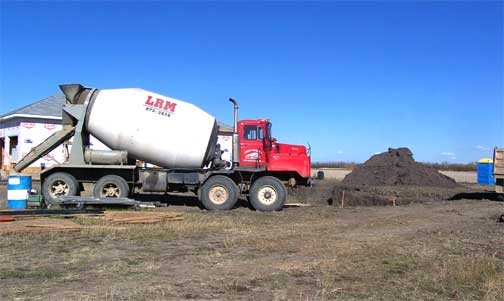 The third new house to go on the east side of Newmarket opposite the north intersection with Forester Crescent. House number seventeen is a Farber Construction project and today the forms for the footings were poured around three this afternoon.
I toured the town today to see how things are going and work crews were busy at work on most of the new houses. Six new basements are now in the process of having the floors installed on them and a seventh has the walls partly up. The outstanding weather today was a bonus as work crews in some cases moved from house to house to complete on time work.
The Farber crew were working across the street from the Mapleridge this afternoon as they have the basement in place and the floor on the house ready for the walls to be erected and work was going on today setting the footings for the garage but at 2:30 the crew has to dash over to the site of house seventeen to pour the cement for the footings for this house's foundation. Besides Farber's crew Little Redi Mix was on hand and Chupa Excavation.
I was talking to one of the town's plumbers on Monday and he said he has eleven houses on the go as this time so as you can see Tisdale's building trades are pushed to the limits these days.