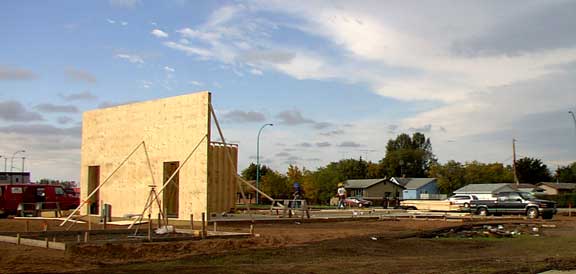 Walls, Walls, Walls
FTLComm - Tisdale - Friday, September 13, 2002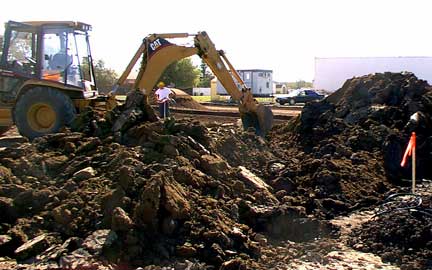 The A&W project has marched right along this week with the exceptionally good weather. Chupa Excavation removed the topsoil and excess fill from the lot on Wednesday and Thursday brought in gravel for the driveways and parking area.

On Thursday Rise Construction set about forming the actual building as they began framing up the walls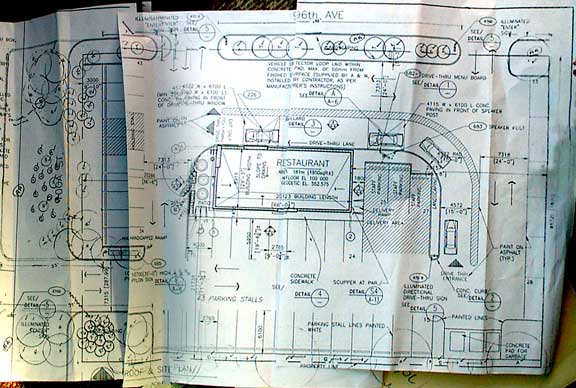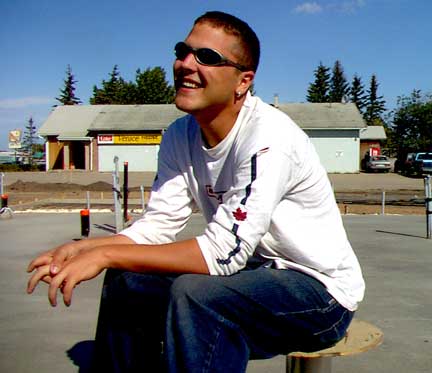 The on site engineer usually works from his office in Winnipeg but this project has him on site every day as he has a string of contractors coming and going as the project takes shape.

Today the contractor who will put in the curbing was laying out his plans for tomorrow as he will begin setting the forms for the various concrete curbs that will form the islands and roadway.

Above the over all lay out of the project will see Mr. Tree as the landscape contractor who will be installing the brick patio, rose beds and trees along the South side all with built in underground watering systems.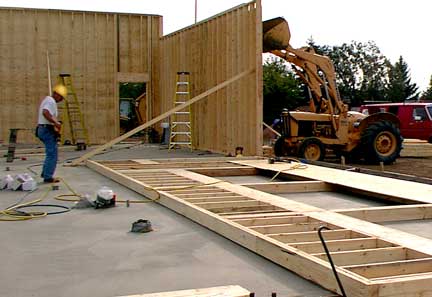 The actual wood frame construction of a small building like this goes up very quickly and most of the building is already standing even though these pictures were taken at 10:00 this morning.

As the work progressed a grade ten industrial arts class from TMSS with their instructor showed up on the site to see the wood framing being assembled and erected. A project like this one is important to see as it develops because the building is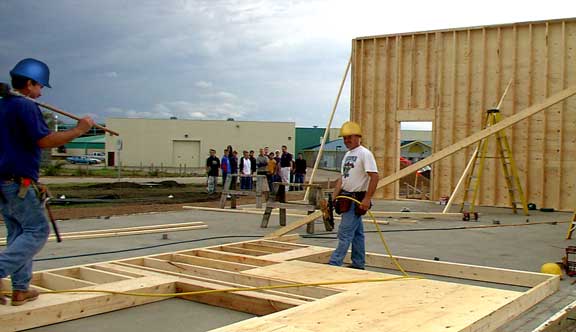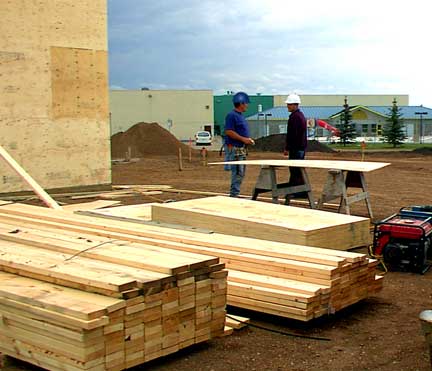 small, goes up quickly and you can see all the basics of the construction project at a single review.

The owner of this restaurant also owns the one in Melfort and decided that he would have this one fully landscaped. The Melfort building was placed on an open parking lot and the niceties of a complete landscaped project just did not take place. However, this one is being designed from the bottom up to have a refined and finished look with its flowers and shrubs to make it fit into the Tisdale environment.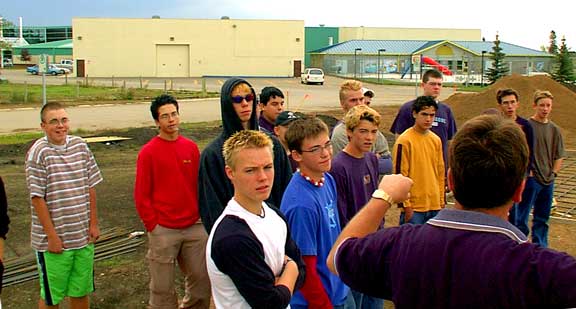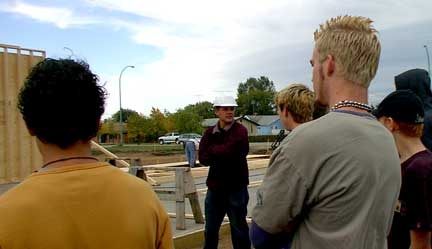 There will be some more gravel hauled in then packed and the whole site will be paved providing for a clean area easy to keep that way. A hard surfaced site is so much less expensive to maintain. Easier to remove the snow and all year round easier to keep its floors looking presentable.

We will have more pictures of this project next week.
---
Return to Ensign - Return to Saskatchewan News
This page is a story posted on Ensign and/or Saskatchewan News, both of which are daily web sites offering a variety of material from scenic images, political commentary, information and news. These publications are the work of Faster Than Light Communications . If you would like to comment on this story or you wish to contact the editor of these sites please send us email.
Editor : Timothy W. Shire
Faster Than Light Communication
Box 1776, Tisdale, Saskatchewan, Canada, S0E 1T0
306 873 2004