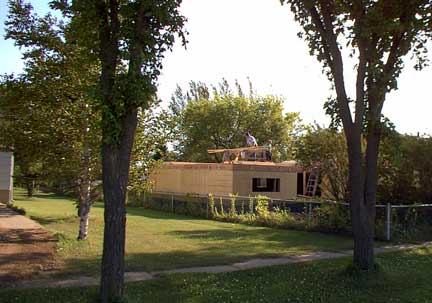 This house is well on its way, located North of the TMSS playing field it was the site of an older home that has been removed for this new building to be erected.

As with all but three other homes this year this one is on a developed lot in a developed neighbourhood so that setting and surroundings appears to be everything.

In this case this home has the
Doghide Creek behind it and the open field across the street so that in the years to come it will continue to have a pleasant view.

The outstanding weather this week has really made construction a dream as progress on all unfinished homes is just zooming along. Farber construction began fabricating the missing garage on the house moved in this week and the new home on Newmarket is seeing its walls rise with a single worker putting that house together.