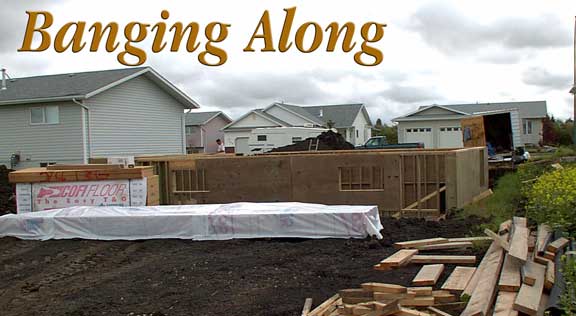 FTLComm - Tisdale - July 19, 2000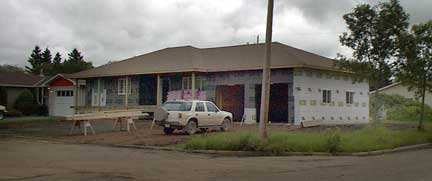 The showers have not made construction easy this year as the basement is being assembled (above) on Newmarket. This project has been stalled with things being pretty wet but today the basement walls are now all in place and the rest of the house (kit parts) are sitting nearby awaiting assembly.

On the right is the large house that has gone on the corner lot as it looks this morning. This is really a big house and uses most of the lot. The picture below right shows the back of the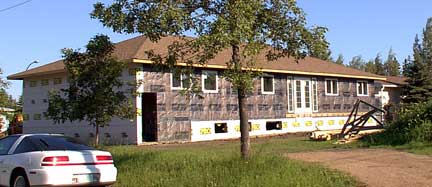 building as it looked last
Thursday. With its roof and windows in place its time for the sub-contractors to get to work on this one.

The new house being built across from the Cenotaph park has been zooming ahead as you can see how it looked last Thursday when the rafters were being put in place. This also is a large house and has an attached garage which is located on the back of the house.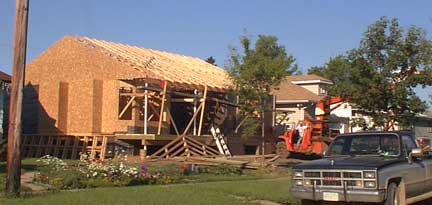 The framing on this house
has really moved quickly as a fairly large number of workers have been on the site assembling this house in stick built fashion.

The picture below shows how this same house looks this morning with the roof now shingled and through the windows the interior framing nearing completion. This house and the one being built on the corner lot both are being constructed with what appears to be a sort of veranda attached to the front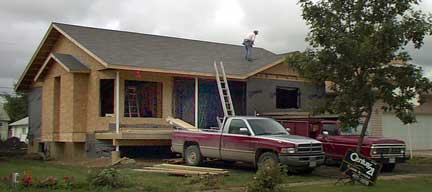 of each house which should
give them a rather nostolgic look with a good deal of character.

The picture below shows this house last Thursday as seen from the back yard with its garage. No question that this house which is for sale is in a prime location and appears to have some truly unique features.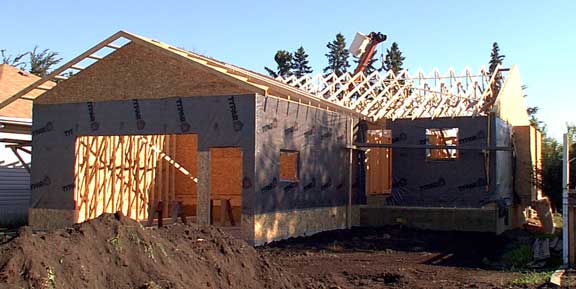 Up on the North East of town, across from Art's Autobody, this house built by Rise Construction is all but finished as it is in its final stages with the last trimming woodwork being installed. This picture was taken last Thursday and workers were on the site today.

The basement for house number five sits waiting for the house to be moved into town and placed on it, though the gravel has been put in, basement plumbing and the concrete basement floor as still not installed but are not necessary until the actually building is in place.