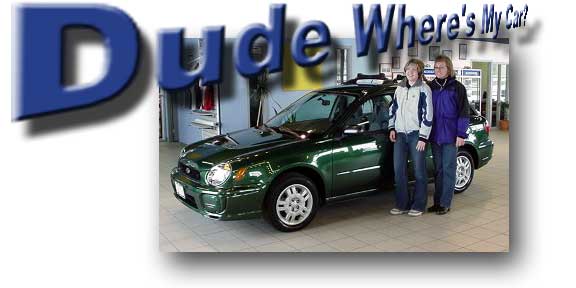 FTLComm - Prince Albert - Wednesday, February 13, 2002
Prince Albert's web developer (City Lights) Stephen Serenelli alerted his friends and neighbours this morning to be on the look out for Val Horner's new car. Last night (February 12) person or person's unknown made off with this young womans brand new Suburu Impreza from her hom on 12th Street. She had a mere 1,200 kilometres on this dandy of a little car.
Auto theft which has been in the news a lot lately simply because Regina has more cars stolen per capita each year than any place. Not just in Canada but any place with 4,000 cars stolen this past year. With our license insurance in Saskatchewan and most people having SGI package policies every car stolen cost every other vehicle operator money, a lot of money. Regina's missing and damaged cars alone if all written off would come to something like sixty million. Fortunately most of Regina's stolen cars are recovered but every one then requires a lot of repairs and we all pay for those repairs.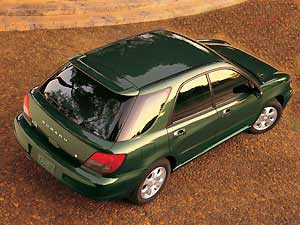 There is a lot of talk about what to do with the offenders if and when they are caught, let's leave discussions of poverty and unemployment to another time, but this is an appropriate time to discuss what you can do to reduce your vehicle's likelihood of becoming someone elses car for a while. Forget the "club" or noise alarms both are unlikely to do anything but be a annoyance to a potential car thief and to you. The "club" simply doesn't work, most car thieves can sort them out about the same length of time it takes them to break into your car. As for noise alarm systems they mostly just go off on their own and it is getting so no one pays any attention to them. Effective electronic disabling devices are available as aftermarket and original equipment on most vehicles and they work. With today's cars being computer dependent an electronic defeat system can make a car inoperative yet available to you when you want to drive it definitely worth checking out if you intend to be visiting in Regina.
As for Val Horner, please be on the look out for this remarkable and not very common dark green car. If you see it give the city of Prince Albert's police department a shout at 306 953 4222. You can send email to Val, even just to cheer her up.
Valerie's car was found by Prince Albert Police in several miles from the city and she was told that it appears to be okay. She will have a chance to look it over tonight and the police will release it to her Friday (February 15).