---GT Mechanical Relocates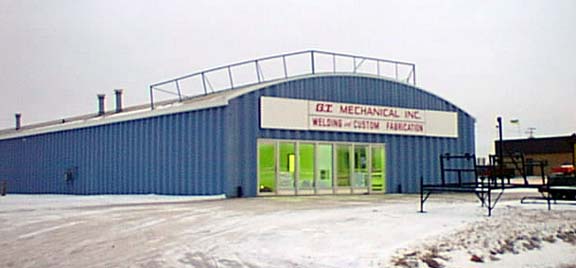 FTLComm - Melfort - December 11, 1999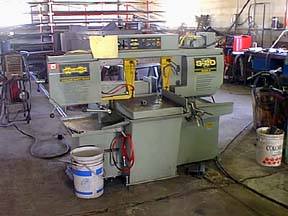 GT Mechanical's devastating fire could have been the final blow to this Tisdale business. Only a year ago the business had begun its operations and hired a staff to fabricate and develop products for markets here in Saskatchewan. The equipment that made up the operations was almost all new and many of the machines state of the art like this cutting machine seen on the right.

The fire gutted the building on Main Street, but since the building was largely brick and blocks the destruction did not appear that extensive. However, in actual fact, temperatures within the structure turned machines like this one into useless pieces of metal. Metal cutting tools such as drill bits were destroyed with the temperature and all electrical components turned to puddles.

But this company is struggling back on its feet and is now re-establishing itself in its new Melfort location with a staff of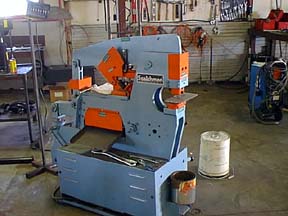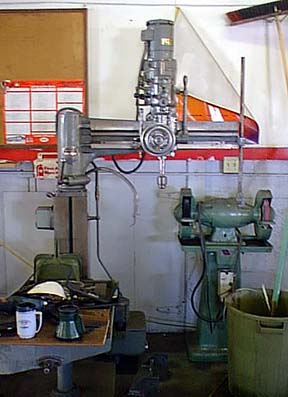 four at work each day as they develop this new location to handle the kind of work the company will be engage. The punch above and the large drill press are history and almost daily new equipment is arriving.

The company, because it had just purchased this equipment had prudently covered itself with insurance and SGI is making ever effort to assist in restoring the working tools of this fabrication operation.

We will keep you posted as this company regains its footing and in the near future we will give you a look around the new facility with its replaced equipment. GT Mechanical builds trailers, is involved in fabricating safety equipment for terminal elevators and installs grain drying equipment for terminals.