---
First Big Auction of The Year

FTLComm - Tisdale - April 16, 2001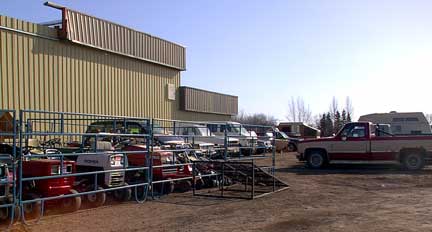 Both Hodgin in Melfort and Schpanski here in Tisdale combine a series of farmer dispersal sales into one big affair and by doing so attract a lot of customers who come to see what they can pick up to keep things going on their farms. This year's first sales go this week with Schpansky's sale here in Tisdale tomorrow and Hodgins the next day in Melfort.

You can compare this year's sale from the pictures taken to last year's event.


Through the rows of machinery for sale there are a lot of older type farm implements but there are also some useful items so that farmers who know their equipment will have the opportunity to select good buys to suppliment their farm operations. Two Thomas "Bobcat" type loaders are in this sale.


Beside the run of heavy equipment there are a few antiques in the rows with at least two of the popular small Ford tractors from the early 50s.

As has been the case in other sales there are a lot of products that come from small business and this sale has several rows of small goods that attact a number of shoppers but also provide important revenue for those who have offered the items for sale.