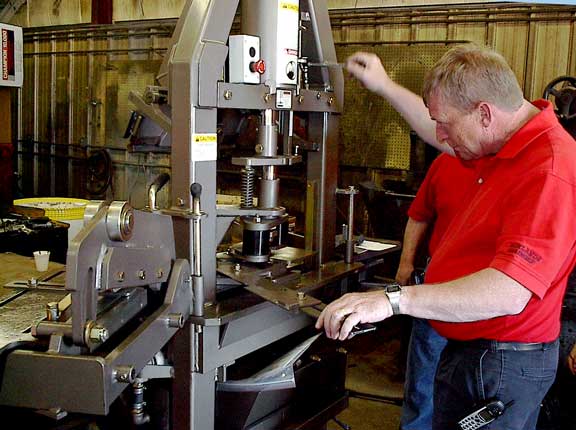 Acklands-Grainger Demo Day
FTLComm - Tisdale - Monday, May 12, 2003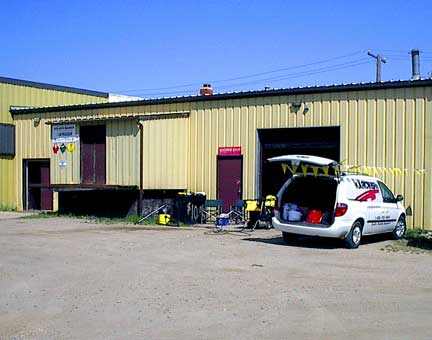 This morning Tisdale's outlet for Acklands-Grainger was holding an open house demo day with coffee and donuts. Before we get into the equipment they were showing off you will remember that my test of any event is "how was the food?" Well this was a good event because the coffee was outstanding and I had a super donut.

I actually shot the picture on the right and was about to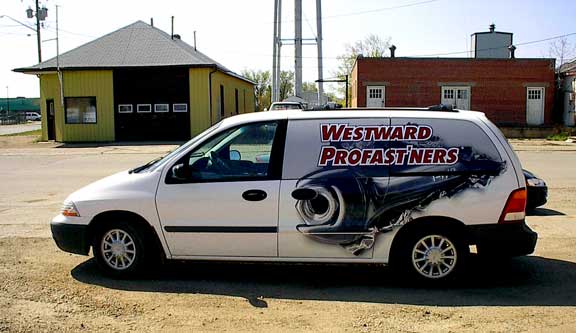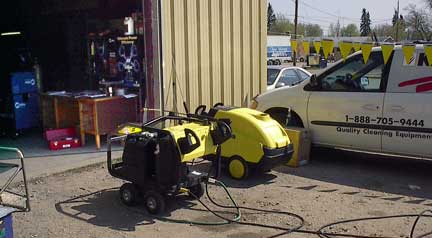 head off on my way when Larry Sinnett with Acklands-Grainger Saskatoon office invited me in for coffee. Not only did I enjoy the coffee but the equipment being demonstrated was a revelation.

With representatives on hand from several of their suppliers including the pressure cleaning company and Miller welders the Acklands-Grainger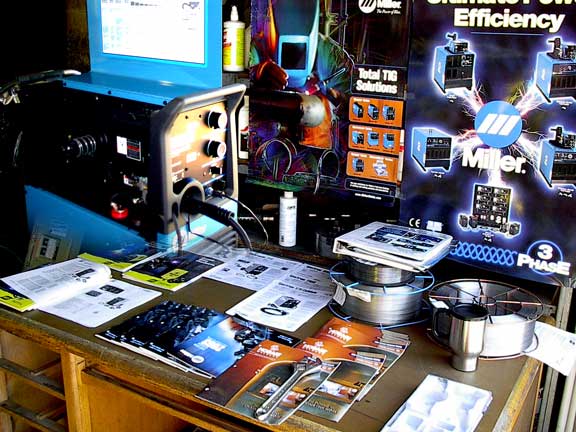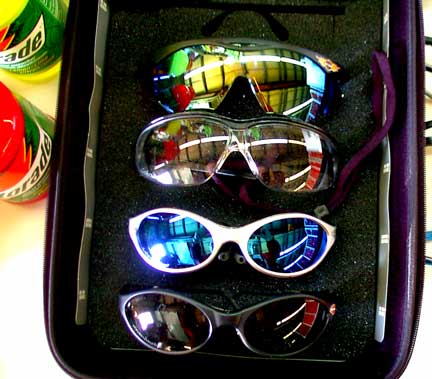 were showing off some of the products that make them the major suppliers for industrial equipment in this province.

Measuring equipment, bearings are standard high quality stuff but when it comes to industrial safety equipment the line of products is absolutely phenomenal. Safety glasses are standard equipment but there is no need for them to look goofy, this display shows some pretty stylist shades to protect worker's eyes.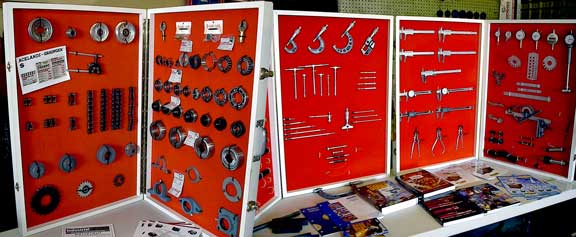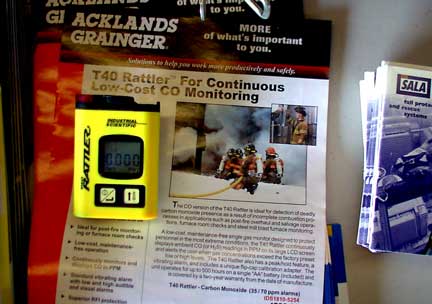 This $299 carbon dioxide detector caught my eye simply because this is a problem that kills a lot workers each and every year. Working in confined areas air quality can be quickly become dangerous and with both carbon dioxide and monoxide being completely odorless a worker can simple lose consciousness without realising the danger.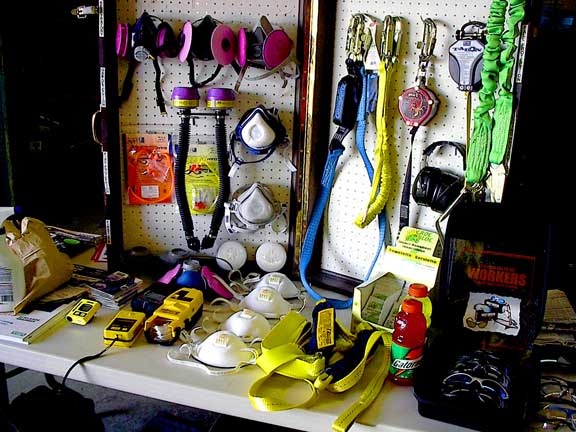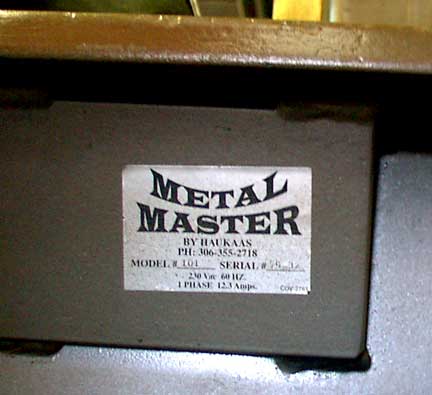 But with out a doubt the star of today's show as the Metal Master seen at the top of the page and in these pictures below. Designed by engineers at Friggstad and manufactured at Mortlach here is a Saskatchewan made piece of equipment that could save a farm shop thousands. The complete system with its onboard hydraulic pump and piston holds a press, a slicing tool and a hole punch. Each component easily swings into the work area and at the tap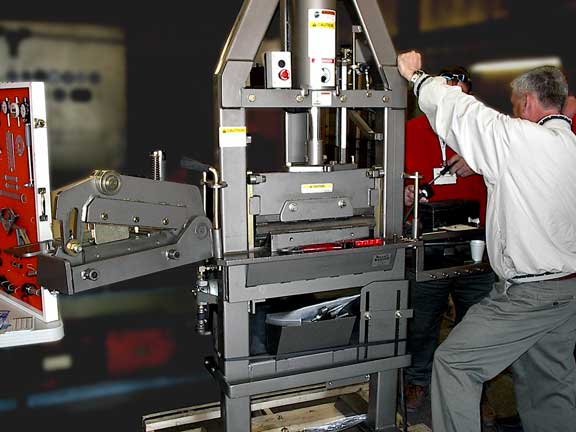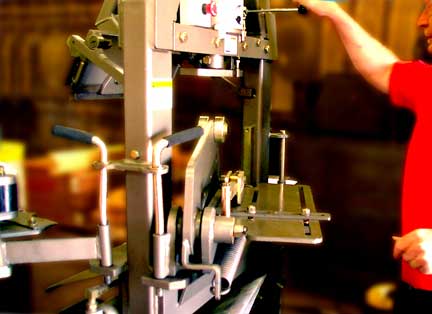 of a button does its work.

Precision cutting can take a long time with a saw or grinding tool but a sheer can clip off metal in seconds.

If you have ever set to work cutting holes with a drill press you know that the process is slow and most drills are not up to the task of heavy metal but a punch pops a hole in a click.

This Acklands-Grainger road show will be in Nipawin Tuesday, Hudson Bay on Wednesday and in Melfort Thursday. The welders and other equipment are also being demonstrated so if you have a shop you should check this show out and oh yes, remember the good coffee.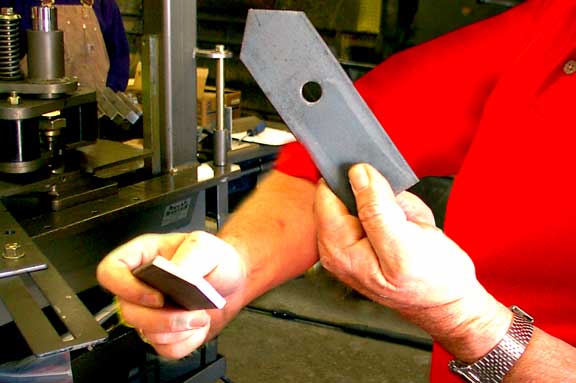 ---
Return to Ensign - Return to Saskatchewan News
This page is a story posted on Ensign and/or Saskatchewan News, both of which are daily web sites offering a variety of material from scenic images, political commentary, information and news. These publications are the work of Faster Than Light Communications . If you would like to comment on this story or you wish to contact the editor of these sites please send us email.
Editor : Timothy W. Shire
Faster Than Light Communication
Box 1776, Tisdale, Saskatchewan, Canada, S0E 1T0
306 873 2004