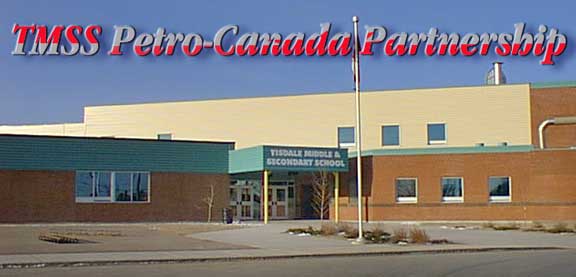 FTLComm - Tisdale - April 15, 2000
The never ending struggle to gain market share is a constant source of concern for us all. The University of Saskatchewan has an exclusive contract with Coca-Cola and other schools have flirted with various commercial promotions. Tisdale's Middle and Secondary School has signed on to an interesting promotion with Petro Canada. The provincial association of High school athletics in Saskatchewan have tried many different business deals to gain money to fund the provincial sports programmes including one with Co-op dairies but this one is on a bit bigger scale.

To increase their business with customers using their cardlock system Petro Canada is using this promotion to get more customer to apply for the Superpass Card. TMSS has sent out applications for this card and the forms are being handled by the provincial high school athletics association.

The way the programme works is that each registered user of the Superpass Card can designate the school, TMSS in this case, as recipient of a rebate based on the amount purchased. The programme claims that Petro-Canada will hand over once a year 3% of the purchases to TMSS while at the same time the customer gets 2% off their monthly bill. In his letter, principal Larry Bedel pointed out that Saskatchewan schools received over $18,000 last year and Carrot River obtained $2,000. TMSS intends to use the funds derrived from this promotion to put towards buying a school van or toward extracurricular programming. If you would like to find out more about this promotion you can reach Mr. Bedel at 873 2352.

Click "Here" to go to Ensign Front page
Ensign, North Central Internet News, published daily by Faster Than Light Communications, FTLComm