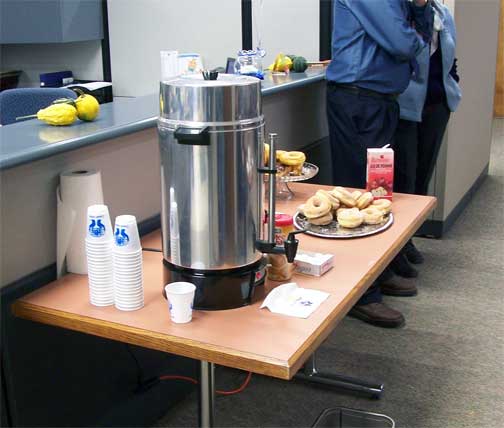 Free coffee and donuts at the Tisdale Credit Union today to celebrate Credit Union Day.
I dropped by just before 3:00 this afternoon and had one of those "father" moments. The Credit Union has installed a new projection system behind their tellers and playing on the screen when I entered were a series of Credit Union Saskatchewan commercials including the famous Saskatchewan Centennial Credit Union commerical. This year's new Credit Union Central commercials were just finished a little over a week ago and they too were on the screen. The point of all this is that the man who edited those beautiful commericals was born right here in Tisdale.
Andrew Shire who helped to launch this company (FTLComm) and this web site when we started it all back in 1995, worked here with me until 1998, and now is an accomplished video editor at MidCan Productions in Winnipeg, where he has been looking after Saskatchewan Credit Union commericals for the last few years. Though Andrew has worked on numerous movie and television projects for both CBC and CTV it is his commercials that Judy and I are most proud since they play on television regularly and it is really great to see them and know he had a big hand in their production. His most recent television project was the CTV special on K-Tel aired on the Thanksgiving weekend.