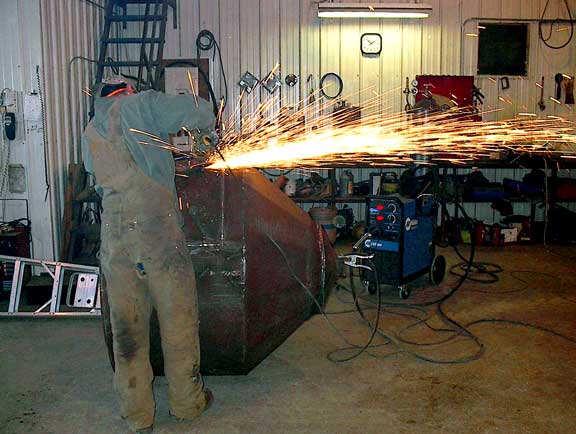 Small business is big business in small town Saskatchewan
FTLComm - Tisdale - Wednesday, November 12, 2003
Time and time again we hear that most job creation is coming from small business. Here in rural Saskatchewan that is certainly the case, as farming in whatever format , is the ultimate small business and from its beginnings here on the prairies, that has meant constant adaptation, innovation and farmers keeping up with their own skills and education.
It should therefore come as no surprise that small manufacturing business also flourishes in rural Saskatchewan for exactly the same reasons and most of the workers and developers of these businesses are themselves either former farmers or people who have grown up in this agrarian culture.
When Babcock&Wilcox opened its factory in Melville the massive fabricating corporation was astounded to discover the productivity that the Melville plant had in comparison with its other factories and was forced to double their Melville plant size within its first year. They found that their farm trained workers learned quickly and were willing to do the extra things that make outstanding products.
I suspect that Northern Steel Industries owes its success to the high quality of the workers it has at its disposal allowing the company to turn out superior tanks recognised through the industry as the best made in the country.
Several small metal fabricating companies have being doing well in the Tisdale area and from time to time do subcontracting jobs for North Steel. Today I was talking to the owner of Delorme Steel and Repair about the company's remarkable development. He explained that the new addition built this summer will be used to provide some office space, a specific room for some machines and additional work space. Half of their current floor space is used for warehousing of the steel that they market, which nets the firm more than a quarter million dollars a year.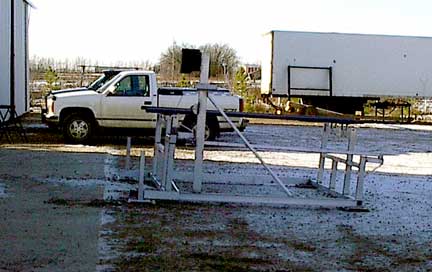 When the business was first begun they had expected that after a year or so they would have to hire extra help, but within a month they needed to hire, just to keep up with the work they had to complete. Now, they make a big effort to turn each job around as quickly as possible so that they are not bogged down, which in turn results in a lot of small jobs coming their way.

One of the products that they are producing regularly are aluminum boat lifts, with one nearing completion in the shop and another sitting outside ready to be picked up. This is diversity being a recreational product that balances the agricultural products they turn out for their customers.
---
Return to Ensign - Return to Saskatchewan News
This page is a story posted on Ensign and/or Saskatchewan News, both of which are daily web sites offering a variety of material from scenic images, political commentary, information and news. These publications are the work of Faster Than Light Communications . If you would like to comment on this story or you wish to contact the editor of these sites please send us email.
Editor : Timothy W. Shire
Faster Than Light Communication
Box 1776, Tisdale, Saskatchewan, Canada, S0E 1T0
306 873 2004