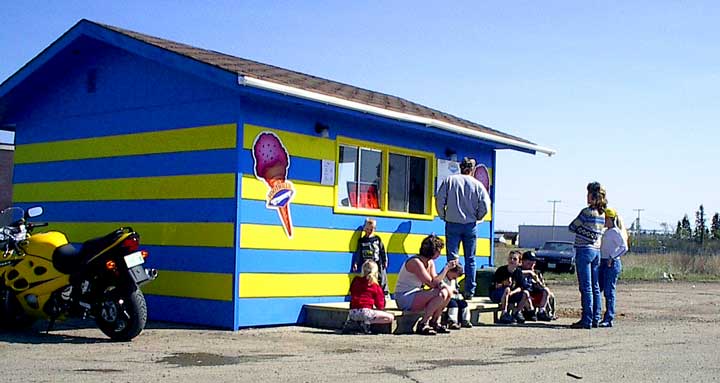 Ice Cream stand opens
FTLComm - Tisdale - Sunday, May 11, 2003
Tisdale has to be one of the biggest Ice Cream consuming communities anywhere. Five outlets sell soft ice cream and two of those also have extensive hard ice cream selections. Now there is another outlet.

On the ESSO service station lot beside the Tisdale Mall is a new hard ice cream stand offering a great variety of flavours. $1.50 for a small cone and $2.50 for a small waffle cone. But the flavours are great with four different versions of chocolate.

From my point of view, if you want soft,
Hannigans is still number one with the best quality and best value for money (75¢ for small cone but it is almost double the size of Co-op's 50¢ cone). Their mix is slightly less sweet than others.
The Co-op's 50¢ small cone is the lowest price and is of consistent quality.
If you like the sugar Wicks has fine soft ice cream and a good selection of hard but service is a little slow as there are usually two workers handling the counter, gas sales, and the deli.
Chicken Delight steals the low calorie list with a no-sugar variety of hard ice cream and some great yogurt flavours as well as having soft ice cream.
Right downtown Wolfers have soft ice cream but I pass on it because its quality is inconsistent.
Though Dairy Queen obtained the lot just West of the 7-11 it did not follow up with building an outlet. A&W has its shakes and flurries but does not sell a cone.
If you are looking for ice cream in the neighbouring communities Melfort has a nice year old business right on the highway just a couple doors West of the 7-11. Though things may of changed my last attempt at having a soft ice cream cone in Nipawin was of marginal success but will update that on my next visit.
---
Return to Ensign - Return to Saskatchewan News
This page is a story posted on Ensign and/or Saskatchewan News, both of which are daily web sites offering a variety of material from scenic images, political commentary, information and news. These publications are the work of Faster Than Light Communications . If you would like to comment on this story or you wish to contact the editor of these sites please send us email.
Editor : Timothy W. Shire
Faster Than Light Communication
Box 1776, Tisdale, Saskatchewan, Canada, S0E 1T0
306 873 2004