Getting a load on and off a truck can sometimes be a tricking business and when the load is a big one the loading ramp has to be up to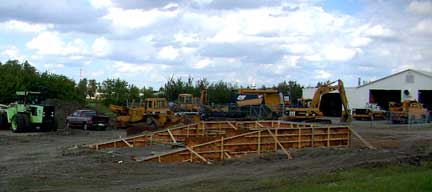 the task. Kramer Tractor is installing a formidable ram in their yard with concrete walls and abutment for an eventual earth filled structure.

If you look around town you will see that there are loading ramps for both CN and CP and most other business have to make do with approaches and the side of the highway.

Kramer replaced an older tie sided structure with this new concrete version.