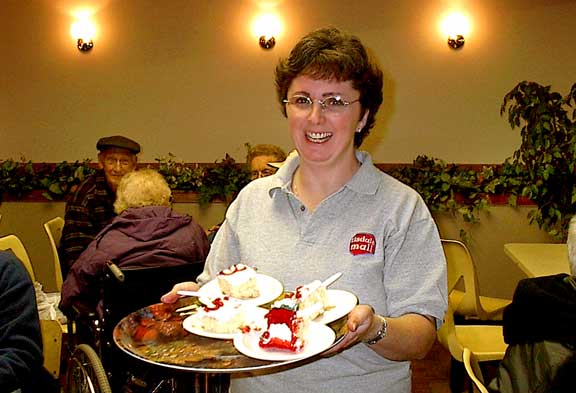 Tisdale Mall Celebrates nineteenth anniversary
FTLComm - Tisdale - Monday, November 17, 2003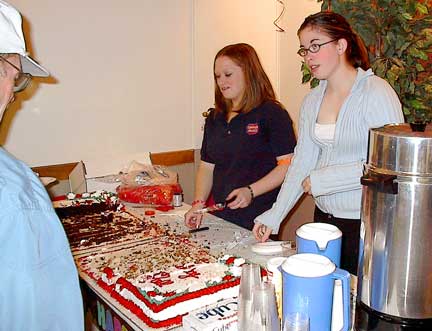 Another year has rolled around for the Tisdale Mall. Last year we were there when it was celebrating its 18th birthday but this year there was cake and coffee.

Heather was passing out the goodies to store personnel who were unable to amble over to the girls serving in the luncheon area. Great cake came from the Beeland Co-op and though it was tasty it was good judgment to keep the pieces small.

This past while the mall has been experiencing more shoppers during the week and the weekend have not been as busy as other years. This may be due to the fine lunch put on at My Way restaurant each weekday.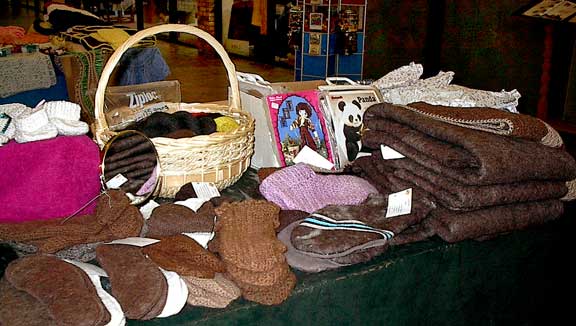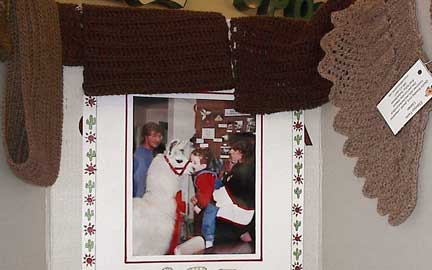 Down the mall there were a number of craft merchants with their goods, this one is from Rose Valley and featured knitted and felt products made from their lamas. These were outstanding products and really captured my attention as I looked over mittens, scarves, head band and a whole range of Lama wool products.

Felt is made by compressing the fibres into a solid mat and for now the raw product is being shipped to an Alberta plant for pressing then the felt is cut and made into the insoles and mittens seen in these pictures.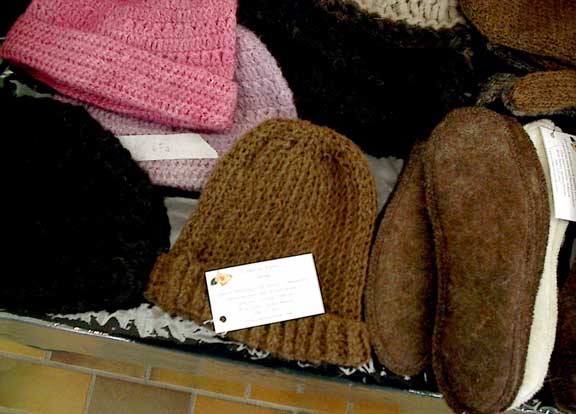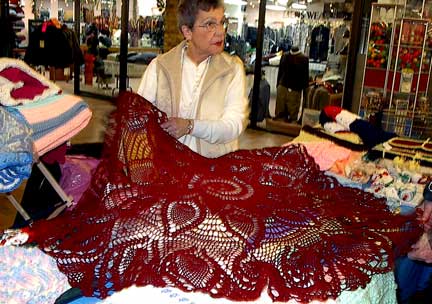 This table throw is a dramatic looking product that must have taken a long time to make and in the back ground you can see this lady also has a stack of afghans as part of her stock.

Both the Tisdale "AAA" Trojans and Lions had ticket tables set up in the mall and both were selling shopping spree tickets. The Trojan seller were encouraging me to get a picture of them and the Lions wanted me to buy a ticket. But I resisted the temptation as I realised that a guy like me who likes to put things off would really over tax my ability with a two minute shopping spree. I have taken up to two minutes just to get one of those plastic bags open to put in some veggies.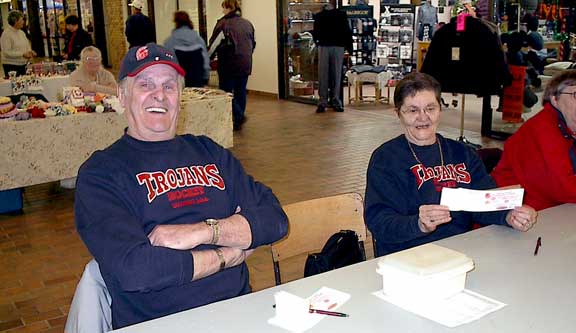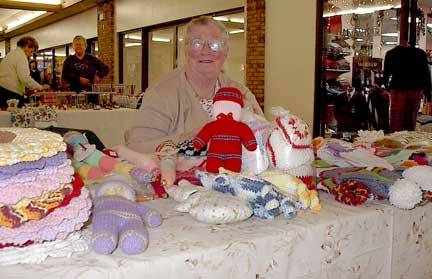 More handy crafts, this table had a great stack of throws to put under hot foods, some dolls and great toques

The table below really caught my eye. The outstanding designs on the afghans were exceptional but this table had a whole set of tiny little "things" the kind of clutter that so many people seem to love to accumulate. These small "cute" objects were excellent items destine to find their way to a garage sale in the future.

I confess that though I find these kinds of items fascinating I can think of no practical purpose they perform in a society.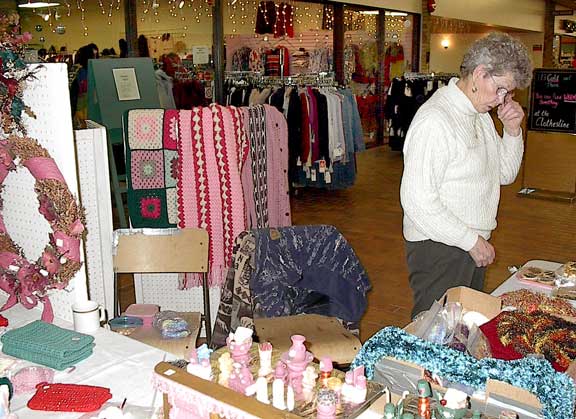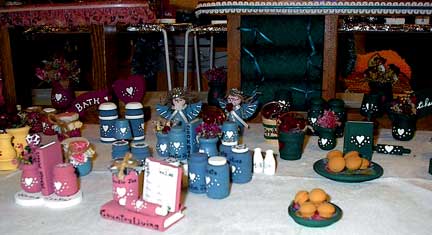 Now that should not be a problem because almost everything we buy has a certain level of ornamentation and in many ways cars and trucks are just big versions of total impracticality that is just on a long sliding scale with this tiny salt and pepper shakers although I have no idea what this tiny muffins on tiny plates are for. This picture distorts their size because these items are only a few inches in size.

The whole world of collectibles needs some research as to what it is all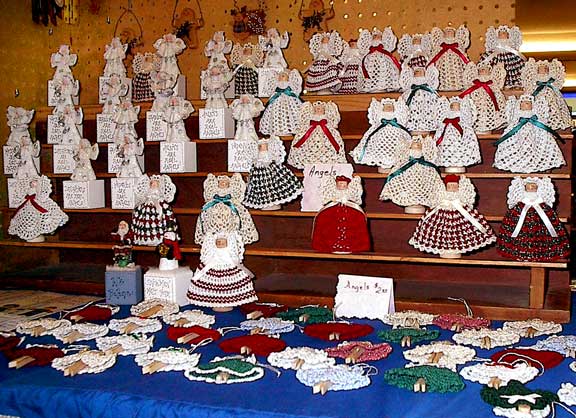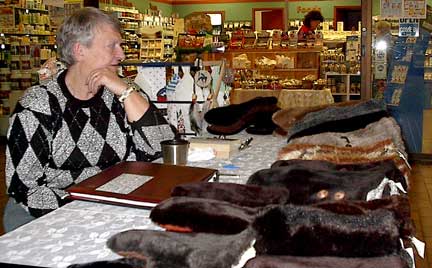 about. A lot of people collect angels like those shown here. This is quite a crowd of them.

This booth has mittens made from man made products. Warm hands without dead animals.

Below is a display that brought a big smile to my face as Barbie is getting on in years and here are some barbie fashions that were not made by Mattel. In 1966 I was working in a toy store and suggested to a friend that she buy her daughter a barbie. Bev frowned at me and told me in no uncertain terms I should get back to work teaching instead of selling toys. A few days later my days as a toy salesman were over and I was signed on to teach music in the Regina school system, ah but that's another story.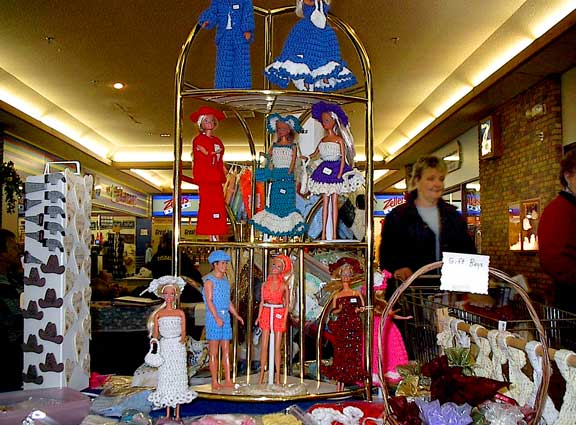 ---
Return to Ensign - Return to Saskatchewan News
This page is a story posted on Ensign and/or Saskatchewan News, both of which are daily web sites offering a variety of material from scenic images, political commentary, information and news. These publications are the work of Faster Than Light Communications . If you would like to comment on this story or you wish to contact the editor of these sites please send us email.
Editor : Timothy W. Shire
Faster Than Light Communication
Box 1776, Tisdale, Saskatchewan, Canada, S0E 1T0
306 873 2004