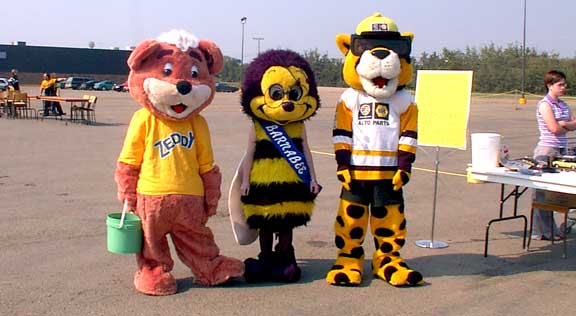 Tisdale Knows How to Celebrate
FTLComm - Tisdale - Saturday, June 16, 2001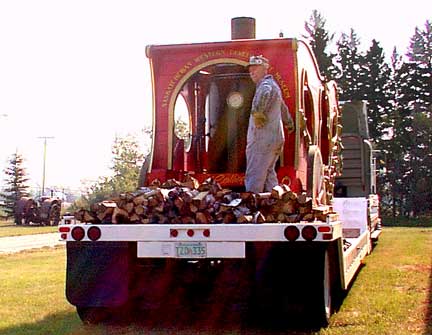 The brisk morning temperature was accompanied with almost no sign of wind and as we looked around at the preparations for the day and weekend from 8:00 until 10:00 it was remarkable to note how many people were involved in the festivities of the day.

Juat after 8:00 the Western Development's steam power caladope was warming up at the Museum and then moved over to the Mall parking lot, I told one of the people involved with the machine that it must be responsible for the smoke in the air this morning and he didn't realise I was kidding.

Magnificient machine even though it really could do with
a little tuning. Moving down the highway shakes the pipes up a bit and it has some pretty sad notes.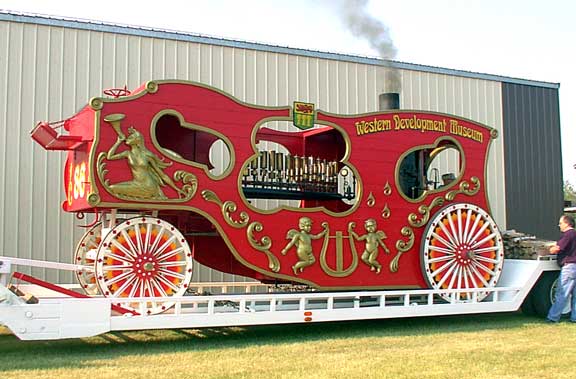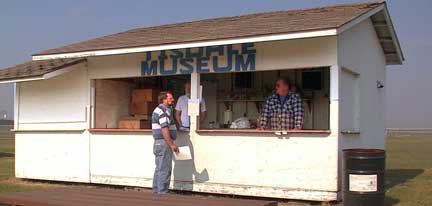 Over at the airport the Tisdale Aviation Association breakfast was getting underway while just over the fence the girls ball teams were taking to the ball diamond and the museum workers had their booth up and the coffee on.

The Mall parking lot was very busy from 8:30 on as areas were marked off for the displays and activities with Tisdale's major businesses jumping in with both feet to
make the day a success. At the top of the page you can see the tree mascots who were out at 9:00 in the smiling wonder a delight to adults and kids alike.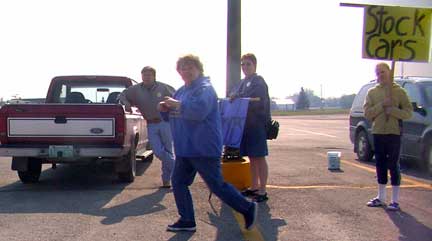 This weekend owes everything to the folks at the Chamber of Commerce who saw the opportunity last year for a fun weekend, realised huge success and have gone with it a second year.

A lot of hard work but every part of the community has become involved in this weekend and it far surpasses the summer fair that had traditionally occured and has now been replaced with this splashing weekend.

Below this couple have come all the way from Alberta to show their Harley.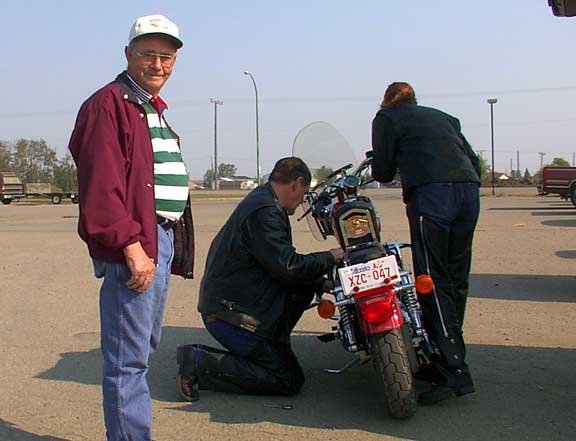 At ten the cars were being positioned on the parking lot and you can see the smoke pumping out of the steam powered caledope.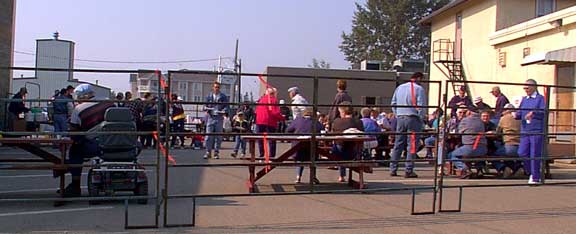 The Lions Club were very well supported with their giant pancake breakfast across from the Post Office, this picture shows the place full and was taken at 8:30.

Over at TMSS parking lot the motorcycles were lining up and the riders registering for the shine and show competition. Right in the
centre of the picture below is one of the town's major motorcyle riders, our Mayor, Rollie Zimmer.