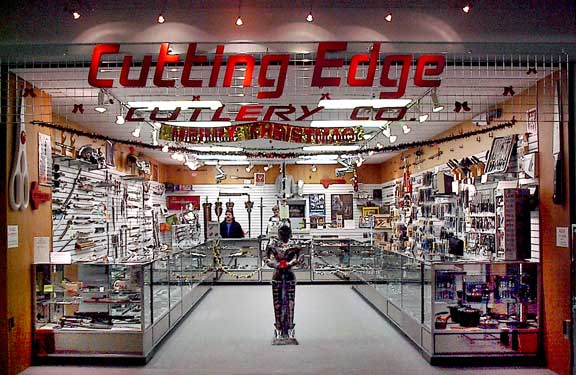 Cutting Edge Cutlery Co.
FTLComm - Regina - Monday, December 15, 2003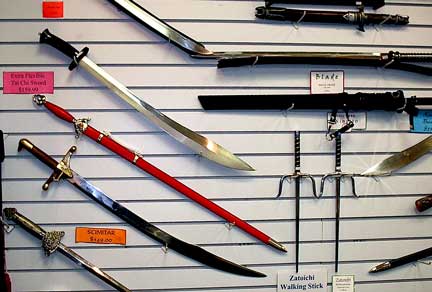 You all realise that I just can't hold back on this one, "I wanted to show you this store because it is so sharp." Or, "I thought you'd get the point."

This unusual shop is located in Regina's Victoria Square Mall at the East entrance to the city.

Though the store is adorned with swords and even a few spears from history and fantasy alike it is also a sources for knives of all kinds including things like high quality Inuit ulu. The display cases have kitchen knives, steak knives, camping knives and all the accessories to keep everything sharp.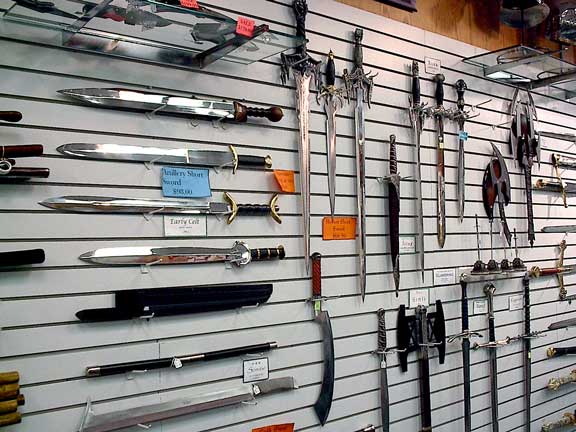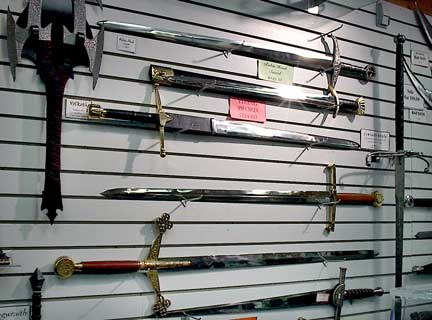 The hardware on the walls is like a tour through history books and almost every movie where something sharp has a part to play.

The Star Trek Klingon Bapleths below are sold in pairs for $199. This is so remarkable when you consider that Gene Rodennbury concocted the honour driven warrior society people in the first season of the famous television series to represent a stylised version of some cultures that exist or could exist in this day and age. So here they are metal manifestations of a fictional epic creation.

Other famous fictional and legendary swords are on display and for sale to hang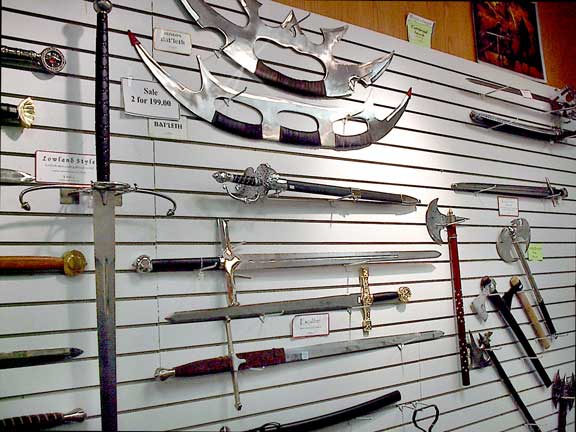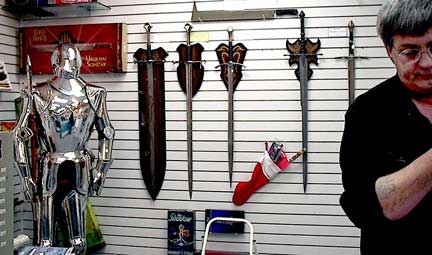 on the wall to give some atmosphere to a room.

From the hand shake to the salute the legacy of the sword is about us everyday in a whole range of customs that we perpetuate long past being aware of their origin.

Seeing all these implements of conflicts and fantasies real and imagined made my mind drift off to Shakespeare where the words were swords, or perhaps the swords were just words.

"Is that a dagger I see before me?"

or "this was the unkindest cut of all."

of Montages and Capulets and poor Polonius behind the arras.

Above is the keeper of this keen place manager Bill Jensen (306 359 3343)
---
Return to Ensign - Return to Saskatchewan News
This page is a story posted on Ensign and/or Saskatchewan News, both of which are daily web sites offering a variety of material from scenic images, political commentary, information and news. These publications are the work of Faster Than Light Communications . If you would like to comment on this story or you wish to contact the editor of these sites please send us email.
Editor : Timothy W. Shire
Faster Than Light Communication
Box 1776, Tisdale, Saskatchewan, Canada, S0E 1T0
306 873 2004