Thumbing through the Parkland Review at breakfast this morning I came across a coupon page from Subway. I used to drop by Subway almost once a week up until last fall when their menu prices had crept up to the point that they were no longer competitive with regular restaurants where some one brought food to your table.
For a fast food, take out place, the food at Subway is tasty and I have found that it does not cause me sugar problems, but the price of a foot long sub had simply grown to that $8.00 range so I quit going there.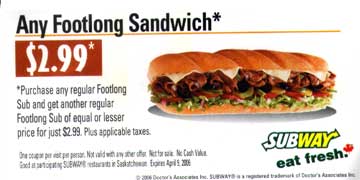 So it was interesting this morning to see Subway actually offering what looked like a bargain. $2.99 for any foot long sub. That settled it, I was going to have lunch at Subway today, with coffee it would me less than $5.00.
I went over at my lunch time, edging toward 2:00 and ordered up their newest item on the menu, the Bistro Steak Sub. I gave the lady my coupon and she politely pointed out that I had to buy two, one at the regular price and the second was at the coupon price. She handed me back a few coins from my ten dollar bill and I was less than pleased.
At coffee Dave pointed out to me that there was an asterisk by the $2.99 and anyone should know that the price was not $2.99. Dave had made an interesting point but I am one of those old testament type folks who feel that "thou shalt bear no falsehood." actually means something and I trust people.
By the way, did you hear that there was a bank hold up in Tisdale, Monday morning, I was shocked. The reason I mention bank holdup is because apparently there was a firearm involved. Suppose you decide to point a water pistol at a bank clerk and demand all the money, that would be classed as "armed robber."
The way I look at it is that I should not need a lawyer to go over a coupon before I attempt to use it to purchase something and if I do need to read the coupon carefully, I don't think the top line in bold print should be a bald faced lie. Now even if I had bought two foot long sandwiches that would have cost me $10.98 which would have meant that each of the sandwiches would have cost me $5.49 which is a great deal more that $2.99.
I am planning my next visit to a Subway in 2026, who knows, maybe I will live that long, but maybe not, until then, Subway and its advertising are just a pack of lies.