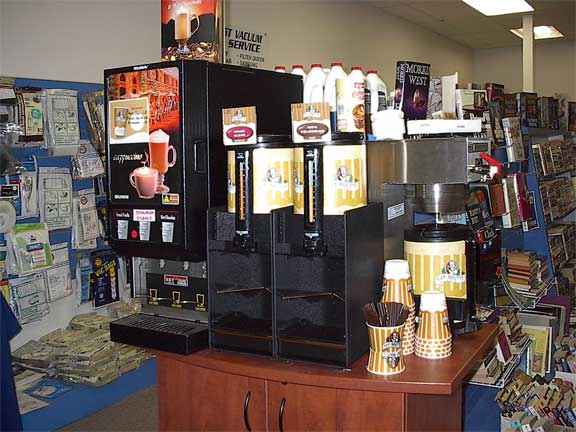 Coffee in the mall
FTLComm - Tisdale - Friday, October 22, 2004

The closing of Zellers at the end of September has been less destructive than was first thought it would be. Tisdale Mall merchants have set to work making their places of business as positive a shopping experience as possible without the big anchor store to draw in customers from surrounding communities.

Tattered Corners, the used book and vacuum cleaner store has set up a coffee/capachino station at its doorway. This is a major addition to the mall as a whole because the mall is open often when My Way or Lil Willies are not open and now there is a place to grab an outstanding cup.

The rent alone loss for the mall is about $30,000 a month which over a year adds up there to $360,000. Without the anchor revenue from other outlets will fall and the future of the mall will be in doubt. However, efforts are well underway to get a new business to open in the huge space formerly occupied by Zellers as negotiations are taking place on the West Coast today, so we are all hoping that an announcement will be soon forthcoming.

The Tisdale Mall is sponsor the Trojan game Sunday afternoon and will be doing a promotion at the game. In addition Pumpkin days begin thursday with kids costume parade and party on Saturday.
Return to Ensign - Return to Saskatchewan News
This page is a story posted on Ensign and/or Saskatchewan News, both of which are daily web sites offering a variety of material from scenic images, political commentary, information and news. These publications are the work of Faster Than Light Communications . If you would like to comment on this story or you wish to contact the editor of these sites please send us e-mail.
Editor : Timothy W. Shire
Faster Than Light Communication
Box 1776, Tisdale, Saskatchewan, Canada, S0E 1T0
306 873 2004