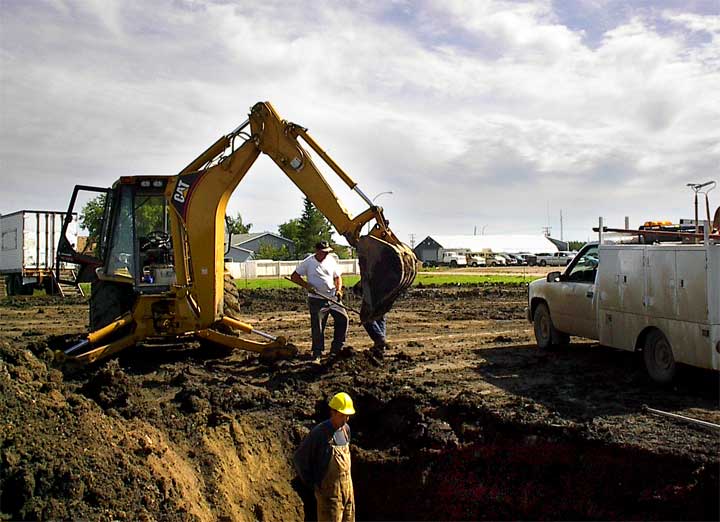 New business between A&W and Bow Mar
---
FTLComm - Tisdale - Friday, September 3, 2004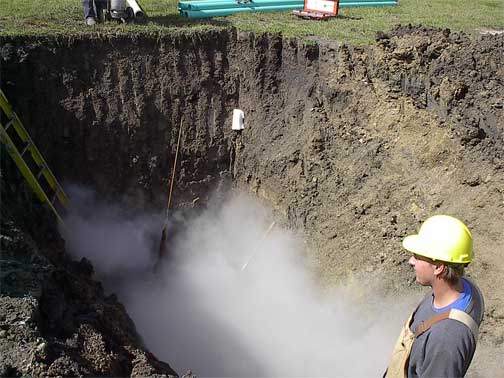 Another new construction project began in Tisdale Wednesday as contractors laid out the stakes for a new business on the Montana property just south of the A&W.

At three this afternoon this was the scene as Chupa Excavation opened the ground to the water and sewer lines and the town crew were on hand to freeze the water line (right) with ultra cold gas so they could make the new line connection.

This is a large lot and on Wednesday around 2:00 (below) the general contractor staked out the lot for the new video rental shop being built by a Nipawin outlet. It had already clouded up and was beginning to rain when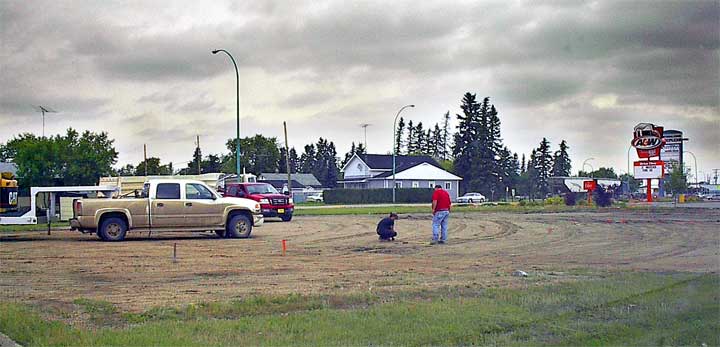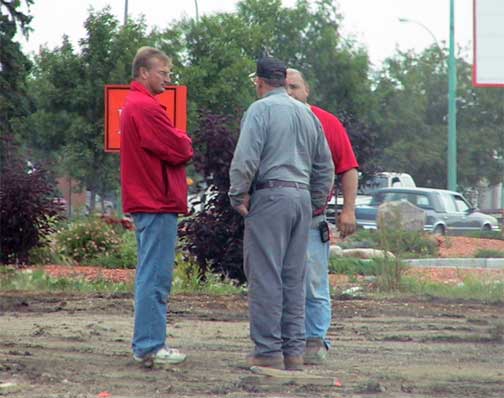 contractor left the scene in the able hands of Chupa Excavation (right).

Despite the heavy rain on Thursday Chupa Excavation drilled in the piles which were then fitted with rebarb and filled with cement.

From the angle and scene below you can see the building is not that large and will allow the owner of the large lot to expand or add addition business to the site with still lots of room for parking and services.

This lot has been used as an itinerant parking lot over the last few years as it has sat vacant. It was used at one time as a petroleum outlet and the soil contamination of the neighbouring A&W site was cleared up a few years ago.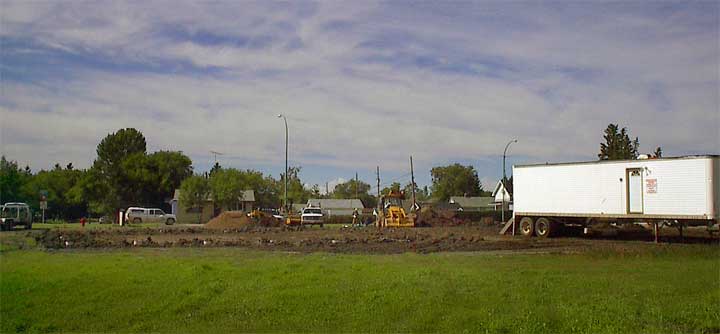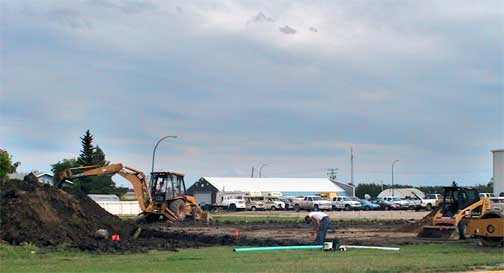 On Monday while discussing the downtown improvement project with the Mayor, Rollie Zimmer, he pointed out that standing still is simply not an option for a community. He said that the development in the downtown area will change the community for coming generations but because of those additions it makes the town more attractive to businesses looking to locate in a community that is thinking ahead and willing to improve itself.
Return to Ensign - Return to Saskatchewan News
This page is a story posted on Ensign and/or Saskatchewan News, both of which are daily web sites offering a variety of material from scenic images, political commentary, information and news. These publications are the work of Faster Than Light Communications . If you would like to comment on this story or you wish to contact the editor of these sites please send us e-mail.
Editor : Timothy W. Shire
Faster Than Light Communication
Box 1776, Tisdale, Saskatchewan, Canada, S0E 1T0
306 873 2004